Exhibition explores approaches to art and civic dialogue
Community Folk Art Center is presenting "You Are Here," which opens on Friday, April 8, and runs until Saturday, April 23. The exhibition explores various intersections of citizenship and art practice. The show grew out of a year-long graduate seminar titled Art and Civic Dialogue, led by Carrie Mae Weems, an artist of international renown, and David A. Ross, the former director of the Whitney Museum and The San Francisco Museum of Art, and currently the chairman of the MFA in art practice program at the School of Visual Arts in New York City.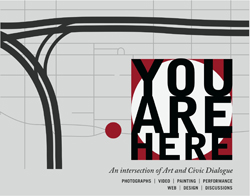 The exhibition represents a roster of dynamic artists working in Syracuse and beyond whose works are concerned with varying notions of social engagement. In that spirit, the words citizenship and art are both carefully reconsidered through a diverse group of works, each bringing a sense of urgency to the complex task of defining the role of art in civic dialogue.
The exhibit includes photographic installations, performance, sculpture, web-based projects, video and a study center that anchors the ideas across disciplines.
A study center, designed by COLAB Director Chris McCray, Weems, Lauren Boldon and Jennifer Hsu, includes books, videos, a bibliography and a timeline highlighting seminal moments and artists in the history of art and social practice.
Participating in the show are Weems, Anneka Herre, Hsu, Boldon, Nathaniel Sullivan, Jay Muhlin, Adrienne Buccella, Rose Marie Cromwell, James Wang, Susannah Sayler, Ed Morris, Marion Wilson, McCray, Siebern Versteeg, Joanna Spitzner, Duke & Battersby, Young_Hae Chang Heavy Industries, Sze Lin Pang, Paula Johnson, Doug DuBois and Hank Willis Thomas.
The intersection of art and civic dialogue has been building for decades. Colleges and universities are beginning to offer and develop core courses and programs that focus the possibilities in this developing area.
The show will be open to the public, from 10 a.m.-5 p.m., Tuesday-Friday, and 11 a.m.-5 p.m., Saturday. Throughout the exhibition, special screenings, performances and dialogues will be held to engage the communities of Syracuse in conversation with the works on display, the artists involved and importantly, with each other.
Examples of works included in this exhibition include:
Weems' "Code Name: Activate," a response to the escalating violence in Syracuse, consisting of a public art project with billboards, magazine inserts and matchbook covers;
Johnson's portraits from her book "Voices of African American Women in Prison;"
DuBois' photographs of African immigrants in Central New York;
Herre's "The Will to Power, A Tale for Children," an animated video adaptation of Friedrich Nietzsche's posthumously compiled, ramshackle and abandoned "magnum opus."
Additionally, on April 23, Herre will present SO NIMH, a performance comprised of selections from the children's classic "The Secret of NIMH" adapted for the stage and played by human actors.
A closing reception will be held at Community Folk Art Center on Friday, April 22, from 6-9 p.m.
For further information contact Hsu at jjhsu@syr.edu, or Community Folk Art Center at 315-442-2230.