Six honored with Women of Distinction Award
Six women were honored by Syracuse University's Division of Student Affairs on March 24 with the 2011 Women of Distinction Awards. The ceremony was held in the Goldstein Alumni and Faculty Center, and the keynote address was given by Jackie Robinson, news anchor with CNY Central.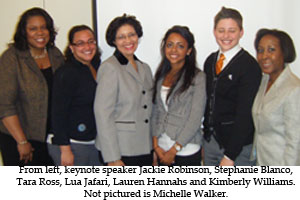 The awards are given annually to women who have made significant contributions to leadership, academics, service, social justice or to their respective profession. Awards are given in three categories—faculty/staff; student (undergraduate and graduate); and community member (Francis McMillan Parks Award). The winners were chosen by a committee consisting of SU faculty, staff and students.
"This year's awards ceremony celebrated and honored fantastic women of distinction," says Michelle Singletary, assistant director of residence life and chair of the selection committee. "The selection committee had a very hard time selecting the winners because we had so many great nominations."
This year's recipients are Stephanie Blanco, a senior majoring in women's studies in SU's College of Arts and Sciences; Lauren Hannahs, a graduate student in the higher education master's degree program in SU's School of Education; Lua Jafari, a senior majoring in biochemistry and psychology in SU's College of Arts and Sciences.;
Tara Ross, professor of history and chair of the social science department at Onondaga Community College; Michelle Walker, director of community programs in the Public Affairs Program in the Maxwell School of Citizenship and Public Affairs; and Kimberly Williams, coordinator of staff selection and training in the Office of Residence Life.
Stephanie Blanco
Blanco is a natural leader who is not only involved in multiple R.A.P.E. Center peer groups, but is someone who leads by example and is a mentor for others. She is wholeheartedly committed to all aspects of social justice, academically and in every other aspect of her life. Blanco started volunteering at the R.A.P.E. Center in fall 2007 because she wanted to help prevent rape, support survivors and help others better their lives.
She joined Sex-Esteem, a peer sexuality group that facilitates discussions with students about sexuality and healthy relationships; she now serves as co-leader. Blanco helps plan and lead weekly meetings, mentors new peer educators, co-facilitates workshops and generates new programming ideas. Under Blanco's leadership, Sex-Esteem has grown from a membership of 5 to 27 students. The R.A.P.E. Center volunteers have grown into a close community, in large part because of Blanco's spirit, warmth and ability to communicate that each individual is valued. Blanco is deeply committed to working for social justice and plans to continue this work after college.
Lauren Hannahs
Hannahs served as president of Pride Union, where she led the organization through role modeling and was committed to full inclusion and participation of all students. Her programming and relationships reflected her commitment to social justice. Hannahs possesses excellent communication and team work skills, and she understands and values true collaboration with other offices and departments on campus. As a result, she has taken on several large and small projects that have benefited the SU/SUNY-ESF community.
She worked last year with the Office of Fraternity and Sorority Affairs to provide Ally Development workshops to all of the Panhellenic sororities, and continued that this year with the InterFraternity Council. She understood that there was an educational and communication gap between the Greek community and the LGBT community on campus, and worked toward creating dialogue and empathy. She has taken on additional responsibilities this year to teach the Intergroup Dialogue course on sexual orientation (for both the fall and spring semesters), and in doing so, she has been successful in bringing her knowledge and expertise to the classroom.
Lua Jafari
Jafari is a member of the organization MEDLIFE (Medicine, Education and Development for Low Income Families Everywhere), which sends members on mission trips to regions around the world to provide basic necessities and medical care to poor, rural areas. She has served as both the membership director and fundraising director for this group and traveled on a mission trip last spring to the Sierra region of Ecuador. Jafari is working diligently to fulfill her dream of becoming a doctor, and has already built an impressive resume with experiences in her profession. She has been a researcher for SUNY Upstate Medical University and the University of Cincinnati College of Medicine, and has worked for Crouse Hospital as a senior center volunteer, and the Kettering Medical Center in Ohio as an emergency department volunteer. As the academic development chair of Delta Delta Delta, Jafari has worked with her peers to set goals, find resources and achieve their academic potential as students.
Tara Ross
Ross has consistently demonstrated outstanding leadership at Onondaga Community College (OCC) and throughout Central New York. She joined OCC as an assistant professor in 1994 and was named professor in 2005. She teaches United States history and specializes in African American history. She has developed curriculum and concentrations in African/African American and Native American studies, and serves as the coordinator of the African American studies concentration. Throughout her tenure, Ross has been at the forefront of fostering an appreciation for diversity and inclusiveness. She has been instrumental in identifying issues as they relate to social justice. She has volunteered her time to coordinate and participate in employee and student programs designed to promote and embrace diversity and inclusiveness. She is a member of the OCC's Women's Studies Committee and Black History Month Committee, and she serves as the president of ALANA, the college's employee multicultural professional organization. Within Onondaga County, she is involved in many phases of community citizenship and service where her knowledge of American history, culture and law intersect. Prior to teaching, Ross worked for the Joint Committee on Agency Rule Review of the Ohio General Assembly, as a legislative aide and as a National Park Service ranger.
Michelle Walker
Walker has been making a difference since she was a child. By the age of 8, she was reading mail to her illiterate neighbors and picking up their groceries. She has made community service her avocation, weaving her passion with her vocation. As director of community programs in the Public Affairs Program at SU's Maxwell School of Citizenship and Public Affairs since 1996, Walker gives students the opportunity to experience the joy of doing good. She is the liaison for the Syracuse University Mentee/Mentor Alliance Alumni organization and mentors students both personally and academically.
Walker runs a practicum in public service, where she leads more than 50 students in a reflection discussion section and monitors the completion of their services hours. She recruits, trains and supervises SU students who spend a semester at the High School for Leadership in New York City, which is a with the University. Several years ago, she and Bill Coplin, the department chair, obtained funding and partnered with the City of Syracuse's parks department to start a multi-faceted project in Wilson Park. A Saturday volunteer at the Danforth Middle School National Society of Black Engineers, Walker uses vacation time to chaperone these students each year to competitions.
Kimberly Williams
As the current coordinator for staff selection and training in the Office of Residence Life, Williams has meaningfully impacted the lives of the SU community and beyond. She founded a group called Underrepresented RAs United (URU) for resident advisors of color in residence life, helping them gain support from staff of color and helping them make meaning of their work. Williams' goals for creating the group were to help underrepresented RAs process what it means to be an RA of color and gain the skills necessary to do well socially and academically at SU and in the world. URU provides strong mentoring opportunities for RAs who may need help navigating in their RA position and the wider campus community. This group has grown under Williams' leadership, and she recently coordinated an extensive, daylong retreat to help these students get to know one another and staff of color and discuss topics of particular relevance to them.