Arts & Culture
Students to debut original puppetry performance at SU Showcase
A group of fifth-grade students at Van Duyn Elementary School in Syracuse recently got a crash course in sustainability while creating their original "Voices in the Wind" theater/puppetry performance, which they'll premiere at SU Showcase on May 2.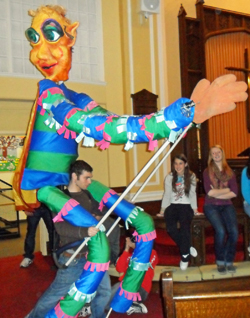 Eighteen SU students collaborated with the 68 Van Duyn fifth graders to create the upcoming larger-than-life performance. With puppets ranging in size from 4 inches to 15 feet tall, "Voices in the Wind" explores who has a voice in the future. In keeping with this year's SU Showcase theme, the fifth graders brainstormed problems in their lives that they would want to fix for a sustainable, livable future.
"As you can imagine, fifth-grade students' ideas ran the gamut from personal concerns to world problems," says Geoffrey Navias, artistic director of Open Hand Theater. "Underlying their ideas there appeared an unexpected concern that made us re-look at the very nature of a sustainable future. 'Voices in the Wind' is fun, exciting and refreshing. Playful and a little angry, it presents a moment when magic and hope are on balance with the realities and sometimes toughness of these children's lives."
The college and elementary students got connected through a "Puppetry and Community" course offered through the Soling Program of Syracuse University's College of Arts and Sciences. The SU students met weekly at Open Hand Theater in Syracuse to learn puppetry and production skills, and to attend workshops in preparing and creating the production with the Van Duyn students.
Open Hand Theater, Van Duyn Elementary School on Syracuse's South Side and SU have been collaborating for six years on this annual Puppetry and Community project.
"Voices in the Wind" will be performed at 11 a.m. on Monday, May 2, in the Schine Student Center, room 304, as part of the daylong SU Showcase "Sustainability for a Livable Future" event. A full schedule of fun and interactive programs is slated for Showcase 2011. For more information, and the latest updates on all scheduled events, visit http://sushowcase.syr.edu/Schedule_2011.html.