Veterans
SBA deputy administrator keynotes inaugural V-WISE entrepreneurship training program for women veterans in San Antonio May 5-7
The Martin J. Whitman School of Management at Syracuse University, in partnership with the U.S. Small Business Administration (SBA), will hold its inaugural Veterans as Women Igniting the Spirit of Entrepreneurship (V-WISE) program in San Antonio, May 5-7 at the Westin Riverwalk. V-WISE is one of the first federally funded programs specifically focused on engaging entrepreneurial opportunity for female veterans.

Marie Johns, deputy administrator of the SBA, where she contributes to management of the agency and development of SBA policy, will deliver the keynote address for the program's opening event on May 5. At the SBA, Johns is spearheading the agency's effort to expand its reach into underserved communities, including veterans, as well as leads President Barack Obama's Joint Task Force on Veteran Business Development.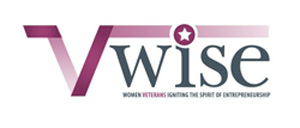 The V-WISE program provides cutting edge, world-class, hands-on training to women veterans of any branch and any era of military service, National Guard or U.S. Reserves, or active-duty military looking to start a business venture during their transition from military to civilian life. Additionally, the program is open to spouses or partners of veterans who are involved with running a veteran-owned business.
"Winning the future means giving our men and women in uniform the tools they need to start a business after leaving the armed services," says Johns. "It's no surprise that many veterans, with the leadership skills and entrepreneurial spirit they have developed, are interested in starting their own businesses. V-WISE is a crucial tool to help our nation's veterans have a piece of the American dream that they fought so hard to protect."
Currently, there are 1.8 million women veterans in the United States and Puerto Rico. The U.S. Department of Health and Human Services reports the number of female veterans has increased by 25 percent in recent years. By 2013, women are expected to make up nine percent of the veteran population.
"In 2010, the SBA reported the success rate of a veteran-owned business is higher than that of the general population," says Mike Haynie, national executive director of veteran outreach programs in the Whitman School. "The V-WISE program was founded in partnership with the SBA as a means to ensure that women veterans have the tools and resources to overcome their unique challenges to become successful business owners."
The inaugural program in San Antonio is filled to capacityvwith approximately 150 female veterans taking part. Participants are responsible for a $75 registration fee and their own transportation. Food, lodging and materials are fully funded by the program. The program has three components—an online course, 20 hours of instruction and a post-mentorship program.
For more information, contact Ray Toenniessen, director of Whitman Veteran Outreach Programs, at (315) 443-0256 office, (315) 956-2287 cell or rmtoenni@syr.edu.