Arts & Culture
'The Clean House' premieres at Syracuse Stage
Matilde (pronounced Ma-chil-gee) has a problem: she's a cleaning lady who doesn't like to clean. She'd rather think up the perfect joke. Now that her parents (once the funniest people in Brazil) are dead—her mother died laughing—she is the funniest person in her family. Matilde works for a doctor named Lane, who has a problem: Lane's husband Charles, a surgeon, has found his soulmate, and it's not Lane. It's Ana, a vibrant Argentinean woman, who is dying, and that is Charles' problem.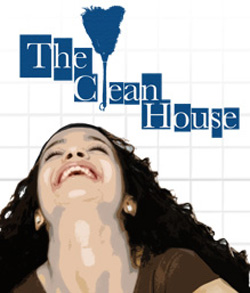 Author of "The Clean House" Sarah Ruhl is an exceptional playwright and MacArthur Foundation Fellow whose work has garnered Pulitzer nominations and justified recognition from Broadway to theaters across the country. "The Clean House" is one of her best–a compassionate, theatrically bold and emotionally rich comedy.
"The Clean House" runs May 4-22 at Syracuse Stage. Tickets range $16-$48, available at 315-443-3275 or http://www.SyracuseStage.org. "The Clean House" is sponsored by the National Endowment for the Arts, Upstate Medical University, the Syracuse Stage Board of Trustees and Residence Inn Marriott. Media sponsors are WAER and WCNY. Syracuse Stage season sponsors are The Post-Standard and Time Warner Cable.
"The Clean House" will feature five professional actors with significant Broadway credits: David Adkins as Charles (Broadway: "Next Fall"), Gisela Chipe as Matilde (Off-Broadway: "Emancipation"), Alma Cuervo as Ana (Broadway: "Beauty and the Beast," "Cabaret," "Titanic," "The Heidi Chronicles," "Ghetto," "Quilters"), Carol Halstead as Lane (Broadway: Gore Vidal's "The Best Man") and Linda Marie Larson as Virginia (Broadway: "Deuce" with Angela Lansbury, "Jackie: An American Life," "Mornings at Seven.")
In "The Clean House," Ruhl takes an expansive view of cleaning. "We often dismiss the question of cleaning, as if it were something trivial," said Ruhl in an interview with American Theatre Magazine. "But if you really start to talk to people about their relationship to cleaning, it reveals so much about our attitudes towards death and mortality and decay."
"A house, like a soul, naturally accumulates things," says Michael Barakiva, director. "Cleaning is the process of upkeep. You think if you start down the right path, things will take care of themselves. But it doesn't work that way. Everything requires upkeep. Each character must learn how to maintain his or her soul."
In "The Clean House," Ruhl accomplishes interplay of ideas, emotion and comedy by employing moments of "magic realism." Barakiva compares this to musicals: "In a musical, when emotions get so high, the characters break out into song. In magic realism, heightened moments are created when willpower bends the rules of reality."
The scenic design, in particular, helps to create a sense of magic in "The Clean House." The white-on-white design is meant to symbolize the interior of a hospital, the states of Alaska and Connecticut (where the play's action takes place) and the amount of energy it takes to keep white things clean. An iceberg coffee table is a reminder of how things in life can become frozen/thawed, and a curved staircase is the only separation between Lane's home and Ana's home (presumably across town).
Within this environment, Matilde, a Brazilian maid who doesn't like to clean, starts the show with what Barakiva calls an "infusion of color, a colorful invasion of South America," and her quest for the perfect joke begins.
After its acclaimed run at Yale Repertory Theatre, "The Clean House" was produced with equal acclaim at several major theaters coast to coast before winding up off Broadway at Lincoln Center, where it received an extended run.
Ruhl is a young American playwright based in New York City whose work has been produced across the country to much acclaim. Her plays include "In the Next Room" (Tony Award nominee, 2010; finalist for Pulitzer Prize, 2010; Glickman Prize, 2009), "The Clean House" (Susan Smith Blackburn award, 2004; finalist for Pulitzer Prize, 2005), "Dead Man's Cell Phone" (Helen Hayes award for best new play), "Demeter in the City" (nominated for nine NAACP awards), "Eurydice," "Melancholy Play," "Orlando," a new version of Chekhov's "Three Sisters" and "Passion Play" (Kennedy Center Fourth Forum Freedom Award).