Arts & Culture
Syracuse Stage announces 2011-12 season
Syracuse Stage has announced its 2011-12 season. Offerings will include "The Turn of the Screw" from the book by Henry James; comedy and compassion in "The Boys Next Door;" a musical adaptation of C.S. Lewis's "The Lion, the Witch and the Wardrobe;" the acclaimed musical event "Caroline, or Change" by Tony Kushner and Jeanine Tesori; the winner of the 2010 Tony Award for Best New Play, "Red;" and "The Brothers Size," a contemporary drama by celebrated playwright Tarell Alvin McCraney. For information on season packages, call the Syracuse Stage Box Office at (315) 443-3275. Tickets for individual shows will be available later this year at a date to be determined.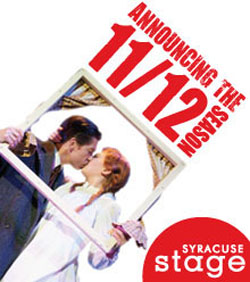 "Syracuse Stage is very proud to be offering Central New York some of the leading plays being performed in theaters across the country," says Producing Artistic Director Timothy Bond. "With two of the largest musicals that we've produced in recent years, and newer plays that have received critical acclaim in New York and beyond, our patrons are in for a rewarding season that showcases a wide range of world-class theatrical art."
Four of the 2011-12 productions will be performed in the 499-seat Archbold Theatre. "The Turn of the Screw" and "The Brothers Size" will be performed in a reconfigured Storch Theatre (usually a 200-seat endstage space). The reconfigured space will offer approximately 260 seats in a three-quarter thrust configuration, with seating sections on three sides of the performance area.
"'The Turn of the Screw' and 'The Brothers Size' call for intense and nuanced performances appreciated best in an intimate space where you can be close to the stage," notes Bond. "The reconfigured Storch Theatre, where no seat is further than seven rows from the stage, allows us flexibility in programming that puts Syracuse Stage in league with major theater companies around the country."
Stage's Managing Director Jeffrey Woodward adds: "Theaters offering three-quarter thrust configurations include Lincoln Center Theatre in New York, American Repertory Theatre in Cambridge, Oregon Shakespeare Festival, Hartford Stage in Connecticut, the Guthrie Theatre in Minneapolis and the Mark Taper Forum in Los Angeles. We are pleased to now offer this experience to Central New York theatergoers."
Other offerings for next season will include the continuation of Stage's longstanding Welch Allyn Sign Interpreted Performance Series In Memory of Susan Thompson, as well as the new Open Captioned Performance Series and Audio Described Performance Series. Such programs ensure access for all to experience the transformative power of live theater.
"Our mission includes reaching out to all members of our community," says Bond. "Syracuse Stage is national in the sense that we are a professional theater company collaborating with the country's finest artists. Equally important, we are a local company, with a full-time resident staff doing everything from building the sets and costumes to administrative functions such as marketing and educational outreach. It's important to us as a regional theater to be part of the local community and to be a welcoming place for all."
This past season, many community partnerships were deepened, including a partnership with the Onondaga Historical Association that has produced several exhibits relating to Syracuse Stage productions; a partnership with the Syracuse Film Festival in presenting Alfred Hitchcock's "The 39 Steps;" M&T Bank sponsored Pay-What-You-Can events; Prologue conversations with actors before every show; partnerships with SU to make tickets easily available to students; art exhibits featuring the work of local photographers; a partnership with SUNY Upstate Medical University bringing medical students to "The Clean House," followed by discussions on medical ethics; and a large-scale video project featuring children affiliated with WHOLE ME, a local organization providing educational and social services for deaf and hard-of-hearing individuals.