SU Women's Choir to present 'Darkness and Light' concert April 28
The Syracuse University Women's Choir will present its end-of-semester concert, "Darkness and Light," on Thursday, April 28, at 8 p.m. in the Rose and Jules R. Setnor Auditorium, Crouse College. The concert is free and open to the public. Free parking is available in the Irving Garage.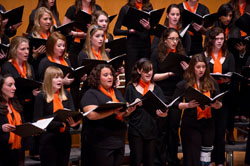 The Women's Choir performs under the direction of Barbara M. Tagg, faculty member in the Rose, Jules R. and Stanford S. Setnor School of Music in SU's College of Visual and Performing Arts.
The concert will feature several works by Syracuse composer Crystal LaPoint, including "A Cry and A Blessing," based on poetry by D.H. Lawrence and featuring Ursula Kwasnicka, harpist, and Lian Qiao, cellist. Also being performed are LaPoint's "Four English Songs": "Come Ho!" with text by William Shakespeare, "Ode to Solitude" with text by Alexander Pope, "Memory" with text by Oliver Goldsmith, and "Hey Nonny No!" (text is anonymous).
Concert selections also include "Io Mi Vivea" by Claudio Monteverdi; "The Seal Lullaby" by Eric Whitacre with text by Rudyard Kipling; "Reel à Bouche" by Mark G. Sirett (Acadian mouth music from the Celtic tradition); "Crossing the Bar" by Gwyneth Walker with text by Alfred, Lord Tennyson; and "Niska Banja" (Serbian Gypsy Dance), arranged by Nick Page.
The Women's Choir includes music majors from the Setnor School of Music and non-music majors from across the SU campus.
For more information, contact Tagg at (315) 443-5750 or btagg@syr.edu. For Setnor concert status updates, contact the Setnor School at (315) 443-2191.