2011 SU Showcase Fellows announced, presentations to be part of May 2 events
An eclectic field of SU Showcase Fellows will present their original research and projects relating to sustainability at SU Showcase 2011, "Sustainability for a Livable Future," in the Schine Student Center on May 2.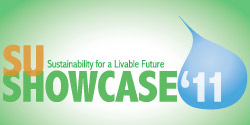 The works of 16 fellows will be featured at this year's event. These Syracuse University and SUNY College of Environmental Science and Forestry students/groups were chosen to share their projects because of their timely and relevant topics. The academic works range from food and green buildings to the media's influence on creating sustainable behaviors, as well as a host of other imaginative topics in between.
Thirty five undergraduate and graduate students in 16 different departments, representing seven schools and colleges at SU and SUNY-ESF, applied for the limited number of Showcase Fellows spots.
Both the campus community and the general public are invited to visit the Schine Student Center on May 2 to explore the SU Showcase attractions, as well as learn about the Showcase Fellows' projects and celebrate their good works. This year's selected fellows, including brief descriptions of their projects, are listed below according to several underlying Showcase themes:
SUSTENANCE (food, water, health)
Food and sustainability on campus: "Eating green on the Orange campus"
By Lorenz Chiu, Samantha Birsen and Anna Wu
Measuring and influencing student perceptions of sustainability and meat consumption.
Health for all: Development of an infrastructure-appropriate system for sterilizing medical consumables in rural equatorial regions
By Thomas Law
Developing a prototype solar-powered steam sterilizer with an integrated vacuum drying system for medical use in remote areas of the developing world.
Aquaponics
By Kevin Phu, Dorian Kessler and Michael Amadori
Developing a pilot-scale aquaponics unit that combines aquaculture with hydroponics.
STUFF (recycling, reuse, rethinking materials)
Reimagining trash
By Elisabeth Terrio
Connecting objects with reuse potential with people who will reuse the objects for repurposed products for small businesses.
Multifunctional portable thermos mug
By Bochao Wang, Li Han
Designing a prototype solar-powered portable mug that can be stretched and folded easily.
Low-impact art: Costuming an opera
By Timothy Westbrook
Creating costumes by using as much post-consumer material as possible.
LIFESTYLES (sustainable behaviors, attitudes, policies)
Can green TV make us greener? The appeal and effectiveness of environmental TV programs at promoting pro-environmental behaviors among individuals with different attitudes
By Katelyn Kirnan
Determining the effects of environmental TV programming on attitudes and beliefs.
The underrepresented student's access to sustainability in the post-secondary education experience
By Andrea M. Webster
Understanding the relationship between race and socioeconomic status and access to sustainability education.
Sustainable tourism: Oxymoron or just an incredible challenge?
By Roman Yavich
Researching the sustainability of tourism development from the various viewpoints of the stakeholders of this industry.
INFRASTRUCTURE (urban and built environment)
Myco-tecture
By Scott D. Bascom
Investigating the potential of using Mycelium from fungus as a sustainable building material.
Green roofs: How they affect water quality
By George Segré
Studying the green roof on the Syracuse Center of Excellence building in order to quantify the effects of a green roof on water quality.
ENERGY
Energy-harvesting door
By Byron Golub
Developing a mechanical attachment that can harvest the energy that people use when they open normal swing doors.
Sunspace growing and heating research project
By Brad DeFrees
Testing the feasibility of constructing a low-cost greenhouse structure that will both allow winter gardening and reduce heat loss from a house.
THE ANTHROPOCENE ERA (human impacts on natural ecosystems)
Respiration in soil microbial communities
By Peter Chuckran
Investigating the factors that could affect CO2 respiration rates of soil microbes, which can shed light on feedback loops affecting climate change.
Permafrost in a changing world
By Rachel Valletta
Researching the effects that melting permafrost can have on both a global and regional scale, including those that extend beyond mere scientific research and have major societal and economic impacts.
ART FOR A LIVABLE FUTURE (an art exhibit in Menschel Gallery)
Das meer
By Elin Sandberg
Creating artwork that combines plastic with clay, paper pulp, weaving, basket coiling and wood to produce a hand netted, recycled cloth oceanic algorithm.
In addition to being featured at SU Showcase, the fellows will have their work published on the Showcase website as part of an online anthology of student research on sustainability.
SU Showcase 2011 will kick off with a morning "teach-in" on climate change. Dave Eichorn, meteorologist and current SUNY-ESF environmental studies graduate student, will conduct the teach-in breakfast presentation on the changing climate of Central New York. An expo of student work by the Showcase Fellows and student-produced exhibits on the "Anthropocene Era" and "Visions for a Sustainable Future" will highlight the daylong Showcase activities. Experts on creative, visual approaches to understanding global warming will present the evening program. The complete detailed SU Showcase 2011 schedule will be released shortly.
There are still a limited number of opportunities to participate in SU Showcase, and more event volunteers are needed to help run the day's activities. For more information visit http://sushowcase.syr.edu/Registration_2011.html.