Sarah Whiting, Rice School of Architecture dean, to lecture at Syracuse
Sarah Whiting, dean and William Ward Watkin Professor at the School of Architecture at Rice University, will lecture about her recent work on Tuesday, April 12, at 5 p.m. at the Syracuse University School of Architecture in Slocum Hall Auditorium. The event is free and open to the public.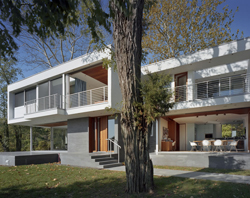 Whiting received her bachelor's degree from Yale University, a master of architecture degree from Princeton University and a Ph.D. from the Massachusetts Institute of Technology. An expert in urban and architectural theory, Whiting began at Princeton in 2005, after six years at the Harvard University Graduate School of Design. Previously, she taught at the University of Kentucky, Illinois Institute of Technology and the University of Florida.
Whiting lectures frequently throughout the United States and abroad. She has published widely in magazines and anthologies and is currently completing a book, "Superblock City: Chicago's Elastic Grid." She is also the founding editor of a new architectural book series with Princeton University Press, "POINT: ESSAYS ON ARCHITECTURE"—three short books on contemporary architecture and design issues, written by leading critics, theorists, historians and practitioners.
Whiting co-founded WW Architecture with Ron Witte in 1999. The firm's design projects include the Golden House in Princeton, N.J.; the Museum of Art + Design at San Jose State University in California; renovations for the drama division at the Juilliard School, New York, and numerous other projects.
Prior to establishing WW, Whiting worked with OMA in the Netherlands, where she was a principal designer for the Euralille master plan. She has also worked with Peter Eisenman in New York and Michael Graves in Princeton.