Syracuse University 2011 Relay for Life sets record
The ninth annual 2011 Syracuse University Relay for Life set a new record this year by raising more than $170,000 for the American Cancer Society. The amount surpassed last year's 2010 Relay for Life record amount of $153,000.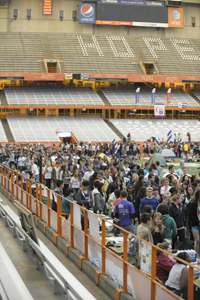 The American Cancer Society Relay for Life events are held in communities around the world in an effort to raise awareness and money in the fight against all types of cancer. Because cancer never sleeps, the relays are often held overnight.
More than 250 teams and 2,126 students, faculty and staff participated in the overnight event held at the Carrier Dome April 9-10. The event kicked off Saturday night with 20 cancer survivors walking the opening "Survivor's Lap" alongside the participants.
A host of activities, including bands, dance groups and even tarot card readings, kept the participants busy throughout the night. The highlight of the night was a luminaria ceremony where volunteers stood on one side of the Dome with glow sticks that spelled out the word "HOPE," while the other side spelled out the word "CURE."
Top fundraising individuals in the 2011 SU Relay for Life were:
Sofia Mejias $8,540
David Rosen $5,000
Carmen Genovese $3,180
The top fundraising teams were:
Win the Fight! $9,985
Phi Sigma Pi, Team 1 $9,385
Maxwell Students Unite $4,287
Outstanding donations can be sent to the American Cancer Society, Relay for Life of SU/ESF, American Cancer Society, 6725 Lyons St., East Syracuse, N.Y., 13057. Participants are asked to send their donations by June 30.