Whitman School announces winners of 2011 Panasci Business Plan Competition
The Martin J. Whitman School of Management at Syracuse University has announced the winners of its annual Panasci Business Plan Competition, overseen by the Falcone Center for Entrepreneurship. The competition is made possible by long-time Whitman School supporter the late Henry A. Panasci, founder of Fay's Drugs.
Sixteen teams, composed of 39 students representing majors and minors from across the SU campus, participated in the semifinals on Friday, April 15, and presented their business plans to business leaders from the Syracuse area and across the country. Teams were judged on creativity, innovation, feasibility, comprehensiveness and an oral presentation.
The top five teams competed in the finals on Saturday, April 16. The top three, whose new venture ideas represent the best potential for growth and attracting outside financing, were selected by judges after reading their business plans and hearing team pitches. Each earned a portion of the prize money, which totals $45,000.
"This was one of our most competitive years ever for the Panasci competition, with more plans coming from students from across campus," says Thomas Kruczek, executive director of the Falcone Center. "The top three plans were outstanding, very creative business ideas that were well thought out and researched."
The 2011 Panasci Business Plan Competition winners are:
First Place: PiezoTouch Inc.
$25,000
Leena Chitnis, graduate student, Whitman School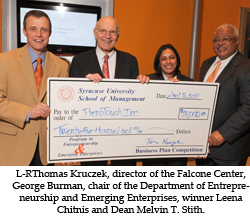 Imagine sending a blind person an email that she can feel in Braille directly off her laptop screen, or being able to send a virtual karate kick through a Wii gaming system to your buddy in Australia, who then feels it on his E-Skin armor. Picture a grandmother communicating with her grandchild through touch, all while video calling on Skype; she merely puts her hand on her laptop screen to feel the imprint of her grandchild's hand. PiezoTouch enables the user to do all of this and more with the Electronic Skin (patent pending), a device that enables users to send a human touch, wirelessly, to another person. Upon completion of prototype, PiezoTouch is poised to enter a rapidly growing mobile handset market, within a smart phone industry that has been virtually recession-proof.
PiezoTouch also won the Fetner Prize in Sustainable Enterprise, an additional sum of $5,000. The Fetner Prize recognizes the entry reaching the final round of the competition that has the greatest potential for positive impact on society and the natural environment and best recognizes the interconnectedness of economic, environmental and social considerations. The Fetner Prize is made possible through the generosity of Whitman alumnus Hal Fetner '83, president & CEO of Durst-Fetner Residential, and his wife, Nina.
Second Place: Rylaxing, LLC
$10,000
Ryan Dickerson, senior, The College of Arts & Sciences
Stephen Fox, senior, S.I. Newhouse School of Public Communications
Michael Santaniello, senior, The College of Arts & Sciences
Danielle Waugh, senior, The College of Arts & Sciences
Case Wayne, senior, Whitman School
Rylaxing designs, manufactures and distributes a signature product, the Rylaxer, a patent pending ergonomic bolster designed to instantly make a twin bed into a comfortable and supportive sofa. The Rylaxer is available in three sizes—the Fullback, the Halfback and the Quarterback. Comfortable and supportive seating is a key element in relaxing, working, socializing and entertaining. When space at home is limited, or when living in a dorm room or small apartment, seating space is at a premium. A critical element in sitting comfortably is lumbar support, and a key element in living comfortably is simplicity and space efficiency. Moving into a new living space and creating a new home environment often requires significant thought, effort and expense. Rylaxing sees an opportunity to add substantial value to sitting and relaxing anywhere by offering a high-quality, efficient and cost-effective series of ergonomic bolsters designed by a college student living in a tight space environment to make living in a dormitory room tolerable. Rylaxing takes the backache and headache out of finding adequate seating in a small space, making it possible to entertain comfortably in a dorm-size room without sacrificing the comfort of a real bed and without adding more furniture to an already packed space.
Third Place: GraFighters
$5000
Dave Chenell, graduate student, iSchool
Eric Cleckner, graduate student, iSchool
GraFighters is an online fighting game that will allow users to upload their drawings and watch as they come to life and battle against the drawings of their friends. GraFighters separates itself from the rest of the gaming industry with Cornelius, the proprietary decision engine. Cornelius takes the way gamers normally play a fighting game and revamps the process. Instead of using a controller or pressing buttons on a keyboard, GraFighters challenges players to compete using design skills and creativity. When a user uploads drawings to the site, Cornelius scans the character and determines its strengths, weaknesses and fighting style based entirely on how that character has been drawn. The outcome of each fight is a direct result of the drawings themselves. Players can earn more experience for their characters by completing missions, unlocking badges and purchasing weaponry and new fighting moves.