STEM
Nunan Research Day lecture addresses water challenge
On April 8, Professor Sotira Yiacoumi G'87, '92, spoke at Syracuse University about innovative methods to remove ionic pollutants from aqueous solutions. These methods, driven by the formation of an electrical double layer, are part of research aiming to address the global challenge of water scarcity.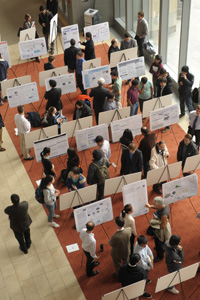 Yiacoumi's lecture was a part of the Nunan Lecture and Research Day that features prominent speakers and showcases graduate student research work at SU's L. C. Smith College of Engineering and Computer Science (LCS).
Yiacoumi, professor at the School of Civil and Environmental Engineering at the Georgia Institute of Technology, has conducted extensive research pertinent to water conservation. Her research interests include colloidal and interfacial phenomena in environmental systems. She has contributed to the areas of sorption phenomena, colloidal phenomena, influence of sorption on colloidal behavior, molecular techniques and innovative environmental processes.
A winner of a National Science Foundation Career Award in 1997, Yiacoumi is also co-author of the book "Kinetics of Metal Ion Adsorption From Aqueous Solutions: Models, Algorithms, and Applications" (Springer, 1995).
As part of the students' work showcase, the Nunan Research Poster Competition followed Yiacoumi's lecture. Graduate students from L.C. Smith's four departments competed for best poster in their department and best overall poster. Department winners were given $250 and the overall winner was awarded $1,000. The winners, their abstract titles and advisors are:
Grand Prize Winner—Kang Wang, Department of Mechanical and Aerospace Engineering (co-author, Pingying Zeng), "High performance flame fuel cell using an anode supported SOFC," Jeongmin Ahn.
Biomedical and Chemical Engineering—Morteza Haeri, "Time-lapse study of change in cellular adhesion on a cathodically polarized CoCrMo alloy," Jeremy Gilbert.
Civil and Environmental Engineering—Brett Maurer, "Flocculation and Filtration in the Geotextile Tube Environment," Shobha Bhatia.
Electrical Engineering and Computer Science—Rahil Memon (co-author: Nirmit Shah),"Designing a Chaotic Communication System on FPGA," Fred Schlereth.
Mechanical and Aerospace Engineering—Waleed A. Abdelmaksoud, "Improved cfd modeling of a small data center test cell," H. Ezzat Khalifa.
Certificate for Applicability of Research to Business and Industry (tie)—Tao Cong, "Plasmonic nanogels with robustly tunable optical properties," R. Sureshkumar; and Hossein B. Nejad, "New Self-Healing Coatings," Patrick T. Mather.
The Nunan Research and Lecture Day was established in 2006, as a result of Jim and Marge Nunan's generous gift. Additionally, their gift has enabled the L.C. Smith College to create the Nunan Graduate Travel Fund, which financially assists doctoral students presenting their work at conferences.