Nervous but Excited to perform at Red House with Sarah Aument
Michigan-based folk duo Nervous but Excited will perform Friday, April 15, at 8 p.m. at The Red House Arts Center, 201 S. West St., Syracuse, with local singer Sarah Aument.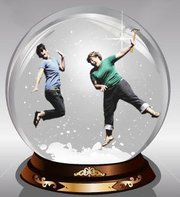 Nervous but Excited is made up of singer/songwriters Kate Peterson and Sarah Cleaver. The "pleasantly aggressive folk duo" uses an arsenal of guitars, a mandolin, a violin, a ukulele, harmonicas and dead-on harmonies that will shake your insides, some dancing, lots of laughter and a glockenspiel in performance to provide a sound and experience that will resonate with their audiences for a long time to come. Their repertoire ranges from intelligent, introspective narratives to the tactfully political, interspersed with songs of love and loss that will tug on your heart.
These road warriors are no strangers to the touring road. Their endless passion has landed them on stages alongside well-known folk acts such as Ani Difranco, Iron and Wine, Utah Phillips, Ben Gibbard, Catie Curtis and Cheryl Wheeler, to name a few.
Aument is a singer-songwriter based in Syracuse. Her style is best described as folk-rock, but her imaginative songwriting crosses over to multiple genres. With the help of her band Kevin Muldoon, Brian Ludwig and Nick Imperial, she released her debut album, "Vertical Lines," in September 2010. Aument is currently touring the northeast with her band. She has made a promising start to her music career, already having been able to share the stage with the likes of Dawes, Erin McCarley, The Spring Standards, Sharon Van Etten and Ari Heist.
The concert is sponsored by the Music and Entertainment Industry Student Association at SU. For more information, call (315)425-0405. Tickets are $5 and are available at Syracuse University Schine Box Office or at the door.