VPA printmaking program to present 'Art Formerly Known as Prints' in New York City
Monumental-scale prints created by artists at Lake Effect Editions, the press of the printmaking program at Syracuse University's College of Visual and Performing Arts (VPA), are the subject of the New York City exhibition "Art Formerly Known as Prints" at Michael Angelo's Wonderland Beauty Parlor, 418 West 13th St. The show, which is free and open to the public, is on view April 22-June 18. An opening reception will be held Friday, April 22, from 7-10 p.m.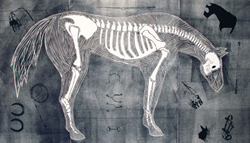 "Art Formerly Known as Prints" features the work of student, faculty and visiting artists, including Nicholaus Arnold, John Hancock, Dusty Herbig, Neil Hueber, Rich Kim and Kristen Leonard. The impressions exhibited are larger than the artists' bodies, hence "monumental."
The show is curated by Michael Angelo, who selected work from the exhibition "Monumental Printstallations," held in 2010 at VPA's XL Projects in Syracuse.
The printmaking program is a part of the Department of Art in VPA's School of Art and Design. The program and Lake Effect Editions are located in the Comstock Art Facility on the SU campus.
Michael Angelo's Wonderland Beauty Parlor is open Tuesday, noon-7 p.m.; Wednesday and Friday, noon-8 p.m.; Thursday, noon-9 p.m.; and Saturday, 10 a.m.-6 p.m. For more information, visit http://www.wonderlandbeautyparlor.com.
For more information about the exhibition, contact Herbig, assistant professor of printmaking, at dtherbig@syr.edu.