Fashion designer, alumna Lisa Muscatel to speak at Syracuse University April 14
Syracuse University's College of Visual and Performing Arts (VPA) will welcome fashion designer and alumna Lisa Muscatel '03 back to share her experiences, work and insights on Thursday, April 14, at 2 p.m. in The Warehouse Auditorium, first floor, The Warehouse, 350 W. Fayette St. The event, designed to resemble a conversation more than a lecture, is free and open to the public. A reception will follow in the main lobby of The Warehouse at 3 p.m.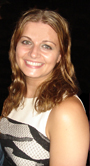 The event is presented as part of the Shemin Family Lecture Series in VPA's fashion design program, which brings young alumni and other industry professionals to campus to meet with students and help them understand the business of fashion. A collaborative effort between VPA and SU's Martin J. Whitman School of Management, the series' focus on fashion and business promotes interdisciplinary study.
Born and raised on Mercer Island, Wash., Muscatel attributes her obsession with sketching outfits and dreams of becoming a fashion designer to the Crayola® Fashion Design Kit she received from her grandmother when she was 12. After earning a bachelor of fine arts degree in fashion design from VPA in 2003, she landed an internship with Narciso Rodriguez. Rodriguez has twice won the Womenswear Designer of the Year Award from the Council of Fashion Designers of America, and his dresses have earned popularity with first lady Michelle Obama.
Now a senior designer, Muscatel works beside Rodriguez. Her responsibilities include creating sketches, overseeing the design department and sample room work flow, doing fittings, research and managing cycles and special projects. Some of her projects involve celebrity clients Claire Danes, Rachel Weisz, Jessica Alba, Julianna Margulies and Sarah Jessica Parker.
Regarding Obama, Muscatel says, "… It's great to see so much coverage of her in his clothes. We are all very proud when we see something of ours worn by her because she's such a strong and powerful figure to be associated with."
VPA's fashion design program is part of the college's Department of Design and is housed in The Warehouse. Focused on design and creative development, the program offers an intellectually stimulating environment with a global perspective. This, coupled with practical and theoretical skills, technology and the study of the cultural context in which fashion exists, provides a broad-based education in fashion. In addition to Muscatel, notable alumni from SU and the fashion design program include Betsey Johnson, Henry Grethel, Donald Brooks, Tom and Linda Platt, Lisa Kline, Stephanie Solomon, Danna Weiss and Cibeline Sariano.
For more information about the talk, contact Cookie Caloia at (315) 569-2808 or ljcaloia@syr.edu.