Arts & Culture
First annual Ceramic Arts Lecture to feature Alfred University's Linda Sikora
The Everson Museum of Art and Syracuse University's College of Visual and Performing Arts (VPA) announce their first annual Ceramic Arts Lecture. Linda Sikora, professor of art at the New York State College of Ceramics at Alfred University, will present the lecture on Thursday, April 28, at 7 p.m. in the Everson Museum of Art's Hosmer Auditorium, 401 Harrison St., Syracuse. The event is free and open to the public.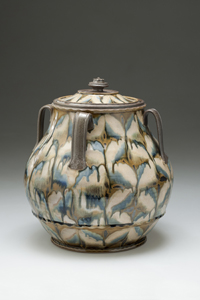 "We are delighted to partner with the Syracuse University ceramics program to offer this annual lecture," says Steven Kern, Everson Museum of Art executive director. "It is exciting to work together to present an innovative program that highlights the ceramic collection of the museum, as well as the work being done by faculty and students at the University."
Additionally, on Friday, April 29, at 1:30 p.m., Sikora and Peter Beasecker, associate professor of ceramics in VPA's Department of Art, will have a conversation in Shemin Auditorium of the Dorothea Ilgen Shaffer Art Building. This event is also free and open to the public.
Sikora is a Canadian ceramic artist whose porcelain jars and teapots are known for their incredible form and polychrome surfaces. She received a diploma of fine arts from David Thompson University Center, Nelson, British Columbia, and holds a B.F.A. from the Nova Scotia College of Art and Design, Halifax. She also received an M.F.A. from the University of Minnesota.
Sikora's work can be found in numerous collections, among them the Arkansas Arts Center, the Los Angeles County Museum of Art, the Minneapolis Institute of Arts and the Northern Clay Center.
The Ceramic Arts Lecture is a co-presentation of VPA's ceramics program, the Everson Museum of Art and the Chronicles of American Ceramics Foundation. For more information, call (315) 474-6064.