Veterans
EBV represented at White House launch of national military families initiative Joining Forces; receives $1 million from Walmart and Sam's Club's Military Family Promise
In recognition of its longstanding support of our nation's veterans, the Entrepreneurship Bootcamp for Veterans with Disabilities (EBV), a program founded in 2007 at the Whitman School of Management at Syracuse University, was represented at the White House during today's launch of Joining Forces, a new national initiative spearheaded by first lady Michelle Obama and Jill Biden, wife of the vice president and an educator herself, to support and honor service members and their families. President Barack Obama and Vice President Joe Biden L'68 (an alumnus of the SU College of Law) joined their wives in the East Room to deliver remarks about the new program.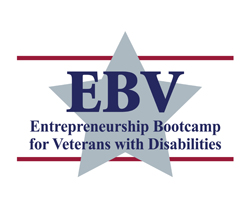 Mike Haynie, founder and national executive director of EBV Programs, Barnes Fellow and assistant professor of entrepreneurship in the Whitman School, was invited by the first lady and Jill Biden to attend the White House event. Joining Forces aims to educate, challenge and spark action from all sectors of our society—citizens, communities, businesses, nonprofits, faith-based institutions, philanthropic organizations and government—to ensure military families have the support they have earned.
"We owe a moral obligation to those who have put on the uniform and pledged to defend it—that is why today was so important. We saw leaders in government and industry acknowledge the relationship between the role that our veterans and their families played in defending freedom, and now the role they can play creating economic freedom for themselves and this nation, through business ownership," says Haynie. "By providing our veterans with vocational training and support, we can help facilitate a successful and meaningful transition to civilian life. These efforts go a long way toward living up to that obligation. I have witnessed time and again the powerful and meaningful way that business ownership empowers people to change their lives, their communities, and ultimately make us a stronger nation. The EBV program represents a path by which our veterans and their families can access that dream."
"There are so many ways that every American can lend a hand and make a difference," says Jill Biden. "We have met individuals and groups across this country who are supporting our troops and their families and showing all Americans that there are countless ways to help—some large and many small. But all important. And I can tell you from personal experience, all appreciated. That is why we are here today —and why Michelle and I are trying to rally American communities to join us."
The aim of the EBV program is to open the door to business ownership to America's veterans by providing cutting-edge, experiential training in entrepreneurship and small- business management to servicemen and women disabled as a result of their military service. The EBV program is offered through a network of world-class business schools, that, in addition to SU, includes UCLA's Anderson School of Management, Florida State University's College of Business, the Mays School of Business at Texas A&M University, the Krannert School at Purdue University, the School of Business at the University of Connecticut and the E.J. Ourso College of Business at Louisiana State University.
"Universities have a critical role to play in forging cross-sector partnerships to support our veterans and their families," says Nancy Cantor, chancellor and president of Syracuse University. "In today's global knowledge economy, higher education is pivotal for empowering vets to leverage their talents and not only prosper, but spur economic opportunity with their entrepreneurial spirit. Syracuse University is thrilled to bring its leadership experience to the table—from tripling enrollment overnight to serve returning World War II vets to founding the EBV—with our White House and Walmart partners to make a real difference in the lives of our servicemen and women and their families."
The Joining Forces initiative builds on the president's directive to establish a coordinated and comprehensive federal approach to supporting military families. Mentioned as part of the Joining Forces launch was Walmart and Sam's Club's Military Families Promise initiative, through which EBV will receive a $1 million grant to the EBV Foundation.
On Veterans Day 2010, the Walmart Foundation announced its own five-year, $10 million commitment to support military and veteran employment and entrepreneurial opportunities. As part of Walmart's commitment to veterans, the EBV Foundation will receive a $1 million grant to support the EBV program at its seven major university partners, as well as facilitate the expansion of the program to additional schools. The funds will also support small business training for more than 100 military family members through SU's EBV-Families program (EBV-F).
"As one of the nation's largest employers of veterans, we applaud the first lady and Dr. Biden's continued leadership when it comes to honoring and supporting our nation's heroes," says Bill Simon, president and CEO of Walmart U.S. "With our presence in communities across the U.S., we are in a unique position to make a difference on issues that matter most to the military and veteran communities. We know an underserved, yet critical, need is access to employment and entrepreneurial opportunities for military spouses and those returning home from duty."
With the EBV grant announcement, Walmart becomes the second major corporate partner providing financial support to the program, joining PepsiCo, a partner since 2010. Walmart's commitment also extends to supporting small-business training to military family members, joining founding corporate sponsor Ernst & Young in supporting the EBV-F.
"Walmart's support of the EBV program, and other efforts focused on providing training in entrepreneurship and small-business creation for our veterans serves to empower our veterans and their families to create their own jobs—their own futures—in a way that is meaningful and honors their service to our country," says Haynie. "We are thrilled that as a result of the announcements made today, more veterans and military family members will have the opportunity to take part in the EBV program."
More than 300 wounded warriors and military family members have graduated from the EBV and EBV-F programs since 2007. This training continues to be offered without any cost to participants.