Hoots and Hellmouth to perform at Funk 'n Waffles
Hoots and Hellmouth will perform Saturday, April 9, at Funk 'n Waffles, 727 South Crouse Ave. The show will start at 8 p.m. Tickets are $5, available at the Schine Student Center Box Office or at the door.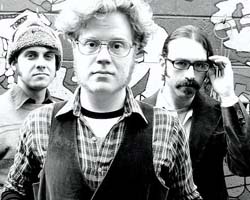 Hoots and Hellmouth see every show as an opportunity to help strengthen a sense of local community in their audiences. More than just a product, this music is at once a celebration and a mourning—championing the human potential to feel deeply and come together as a unified whole. With rich harmonization, foot stomps and stringed instruments, the band musically encapsulates the human experience.
Coming straight out of Philadelphia, Hoots and Hellmouth are masters at blending folk, country, gospel, soul, rock and Americana with their unadulterated live energy, showmanship and honest human interaction. The Hoots and Hellmouth experience is not one to be soon forgotten.
With their vibrant energy and soulful vibes, these veterans of the touring road have earned their rapport while playing alongside some of folk's modern-day greats including Langhorne Slim, Dr. Dog, Grace Potter and O'death, to name a few.
Northbound Traveling Minstrel Jug Band, a roots-rock, blues inspired band formed at Syracuse University, will also perform. Though relatively young, the group began playing live in the fall of 2008 and has since captured the hearts of their followers in the blossoming campus music scene. They have shared the stage with Tea Leaf Green, Heavy Pets, Zach Deputy, U-Melt and Jazz Mandolin Project, to name a few.
The show is sponsored by the Music and Entertainment Industry Student Association (MEISA).