Architecture students engage community in texting dialogue on future of Syracuse
From April 11-17, anyone with a cell phone in the Syracuse community who passes through one of four downtown public spaces can participate in a mobile messaging, public engagement experiment. Students in Syracuse University School of Architecture's "Spatial ConTXT" class, taught by assistant professor Anda French, are creating a dialogue within the city, prompted by the simple but very powerful questions of Syracuse youth.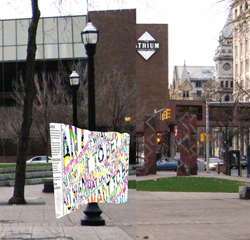 A large, brightly colored, vinyl sign designed and installed by architecture students on a tree in each satellite location will encourage passersby to text, Tweet or email answers to one of these four questions (one question posted per location):
What do you like about Syracuse?
What do you want to be?
What should we do with the abandoned houses?
Why smoke?
The questions for the signs were created by seventh and eighth graders in the Say Yes to Education program at Roberts School during a workshop held in spring 2010, where SU students asked the children what issues were important to them regarding the city's future.
Signs will be posted at the following locations:
The Armory Square plaza at South Franklin and Walton streets;
The plaza at Washington and South Salina streets (White Memorial Building);
The park at South Warren and East Fayette streets
The park at Westcott and South Beech streets
During the evening of May 4, a compilation of the community's responses to the questions will be on display for the public via video projection on the Everson Museum exterior. Each individual who answers a question will receive an automatically generated response inviting him/her to view the massive video display at the Everson.
"This project challenges how the use of mobile media can make a collective impact on the way we use public spaces for exchange of ideas, and the creation of new communities around these exchanges," says French.
"We're very interested in what young people are thinking about the future, "says third-year architecture student Tiesha Shirrell McNeal. "The use of social media as a tool for expression in this setting is ideal."
This project is the result of an Imagining America grant, and support from the Syracuse University School of Architecture, Say Yes to Education, and Urban Video Project (UVP).