First Syracuse air guitar competition will be April 22
Syracuse University brings international rock phenomenon to Central New York
Central New York air guitarists: get ready to rock.  The Department of Art and Music Histories in Syracuse University's College of Arts and Sciences has teamed up with the Red House and the U.S. Air Guitar Competition to host the first Air Guitar Competition in Syracuse, Friday, April 22 at 8 p.m. in the Red House, 201 South West St.—real guitars not included.  Doors open at 7:30 p.m.  The winner will gain a spot at the U.S. Air Guitar Regional Competition in Boston on June 7. The Syracuse competition is free and open to the public.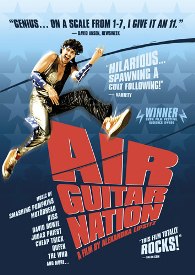 A screening of "Air Guitar Nation" at 7:30 p.m. Thursday, April 21 in SU's Gifford Auditorium in the Huntington Beard Crouse (HBC) building will precede the competition and is free and open to the public. Come learn what the international phenomenon is all about. Björn Türöque (a.k.a. Dan Crane), author of "To Air is Human: One Man's Quest to Become the World's Greatest Air Guitarist" (Riverhead Books, 2006) and host of the U.S. and World Air Guitar Championships, will host both the SU film screening and the Syracuse competition. Celebrity judges will officiate.  Prizes will be awarded courtesy of Air Guitar Nation and The Sound Garden, Syracuse, 310 W. Jefferson St. 
Competitors must pre-register by sending an email to Sydney Hutchinson, assistant professor of ethnomusicology, at salsasydney@gmail.com. Competitors must bring their one-minute songs on a CD to the competition. Competition rules are located on the U.S. Air Guitar website at http://usairguitar.com/rules. 
Crane is a journalist, author, actor, host, musician and retired competitive air guitarist. In 2004, he gave up his career as an educational software producer to pursue his dream of becoming the world's best air guitarist. Under his stage name, Björn Türöque, he competed in numerous competitions—repeatedly coming in second place. He retired in 2005 and now emcees air guitar competitions around the world. 
Crane has been a frequent guest of a number of television shows, including "Late Night with Conan O'Brien;" "Last Call with Carson Daly;" VH1's "Undateable," "Free Radio" and "100 Best Hard Rock Songs;" MTV's "Next;" CNN; and Fox and Friends.