Scavenger hunt, celebration April 30 encourage community members to 'Explore the Corridor'
The Connective Corridor invites the entire community to "Explore the Corridor" on Saturday, April 30, to learn more about the Corridor and find great prizes, fun and food along the way.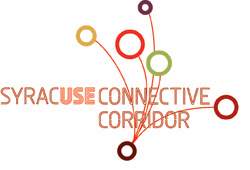 "This event is due to the dedication of a group of Syracuse University students who wanted to be involved in the community outside of coursework," says Robbi Farschman, director of the Connective Corridor. "They've been particularly thoughtful about organizing an event that can be enjoyed by families and young people alike. Most importantly, members of the community can learn more about the Connective Corridor and the amazing transformation the city will begin to see this summer."
On April 30, participants can pick up clues to help guide them to hidden tokens located along the Connective Corridor route in downtown Syracuse. Clues will be available beginning at 2 p.m. at The Warehouse, 350 W. Fayette St., as well as on Corridor buses, which are free for everyone in the community.
Once participants find tokens, they can make their way to the Everson Museum of Art, 401 Harrison St., where the festivities will continue from 5:30-7:30 p.m. Tokens can be entered into drawings for prizes, including a 60-minute massage at Armory Massage, $25 gift certificates to bc Restaurant and two tickets to an evening performance of Disney's "Beauty and The Beast" at the Mulroy Civic Center at Oncenter. Catered refreshments, giveaways and live music from Stir Up the Gravy are also part of the fun.
For more information and to see which businesses have donated prizes, visit http://www.connectivecorridor.com/.