Ray von Dran Awards provide $70,000 to SU student startups at Emerging Talk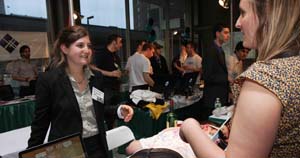 Twelve Syracuse University student startups won a combined $70,000 in seed funding at the second annual Emerging Talk conference on April 1 at the AXA Towers, Syracuse. 
Student companies pitched to panels of judges composed of alumni, entrepreneurs and faculty at The Tech Garden. The selected companies range from products that allow devices to be wirelessly controlled to a variety of mobile apps to the renovation of old store fronts. The companies include an interdisciplinary mix of student talent representing a diverse range of majors, including civil engineering, media management, finance, computer science, information management, advertising, real estate, psychology, accounting and architecture. 
The Ray von Dran Awards, previously the Orange Tree Fund, are part of the Raymond von Dran Innovative and Disruptive Entrepreneurship Accelerator (IDEA) and provide seed funding to help SU student entrepreneurs launch their ventures. 
"The judges were impressed again this year with the quality of business ideas, talent and excitement in our student entrepreneurs," says Syracuse University Associate Provost for Entrepreneurship and Innovation Bruce Kingma. "The Ray von Dran IDEA Awards will allow student companies to take their idea or business to the next level and do it right here in Central New York. We're keeping the incredible talent that we have at SU in Syracuse." 
Funding is awarded to student companies to cover startup expenses incurred in the summer, typically while student teams are working at the Tech Garden in downtown Syracuse. Student expenses may include salaries of company owners and employees, space rental, marketing, legal, website and proof-of-concept development. 
The winning companies are:
Activ Music Agency LLC, a concert booking company that allows fans to use social media to request songs during a show, run by Ade Coker G'11 (Newhouse School), $5,000;
bloodhound, a mobile application that aggregates data about your favorite celebrities and authors, run by Ashley Christiano G'11 (Newhouse School), $5,000;
Broodr, an e-commerce marketplace for inventions, unique designs and products, run by Jason Blanck G'11 (Newhouse School), $5,000;
iGetMoreFit, which allows users to plan, record and analyze their workout on the display of their iPhone or iPod Touch, run by Corey Gibson '12 (Whitman School of Management), $5,000;
Lujo, which focuses on custom mobile application solutions within the health and fitness fields that allow users to implement changes to their diet and exercise, run by Luana Ramcharran '10 (College of Visual and Performing Arts (VPA)/L.C. Smith College of Engineering and Computer Science/The College of Arts & Sciences), Joseph DeLeo G'11 (Newhouse School) and Ernest Blaszczyk  G'08 (L.C. Smith), $10,000;
Meeting Sprout, an online calendar-based platform that allows people to more easily organize and schedule their lives, run by Kevin Kettell '14 (iSchool/Whitman School), Blaine Killen '14 (Whitman School), Jeremy Bernitt '14 (iSchool), Rayshon Mason '14 (iSchool), Chenyu Lin '10 (iSchool) and Azai Ighodaro '09, G'12 (iSchool), $5,000;
Rylaxer, a cushion that converts a bed into a couch, run by Ryan Dickerson '11 (Maxwell School), $5,000;
SqueezeMyTees, a niche T-shirt company that uses social media to spot trends and events and quickly produces related T-shirts, run by Tory Gentes '10 (Whitman School), SU Engagement Fellow, and Brian Weinreich '10 (Arts & Sciences), SU Engagement Fellow, $5,000;
The Front, a service for renovating abandoned storefronts into prime real estate and securing long-term tenants, run by Nilus Klingel '11, G'12 (School of Architecture) and Stephen Klimek '11, G'12 (School of Architecture), $5,000;
Touch-Not, a product that enables a device to be controlled without physical, visual or audible contact from the user, run by William Jay Hotaling '12 (Whitman School), $10,000;
Venue Spy, a company that sells high-definition audio and video capturing equipment to venue owners to facilitate live music and events, run by Matthew James Sullivan '11 (Whitman School), Kerry Thomas Maguire '12 (VPA), Landon Chase '11 (Whitman School), Reuben Weisfeld '11 (Whitman School), Nicholas Kowalski '12 (Whitman School), Bob Ho '12 (L.C. Smith) and Erica Riker (Onondaga Community College), $5,000;
WAVELINK, a company that allows websites to be shared more efficiently than just emailing links, run by Matthew Werbeck G'12 (Le Moyne College), Daniel Russell G'12 (Le Moyne College), Boya Liu '12 (VPA), and Jeff Hube '11 (Rochester Institute of Technology), $5,000.
Winning teams will be required to meet with SU Entrepreneur-in-Residence John Liddy to outline the deliverables, company calendar and business plan, after which they will receive the first half of their funds. They earn the remaining half of the Ray von Dran IDEA Award in six to 12 weeks, based on their work in implementing the plans discussed with Liddy. 
"The Ray von Dran IDEA Award gives us the incredible opportunity to get program development and testing for our first mobile app done within the next few months, and get it out in the world to help people sooner," says Ramcharran, Lujo co-founder. "Our team's goal is to help people improve their health, and pitching and talking to potential customers at Emerging Talk and receiving enormously positive feedback made us realize the magnitude of our work." 
The Ray von Dran IDEA Award recipients were recognized during Emerging Talk, an event that pulled together more than 130 student entrepreneurs from universities and colleges across Central New York, as well as business members and others interested in entrepreneurship. Thirty five student companies took part in the student venture showcase, where they had the opportunity to talk about their venture with investors, faculty, students and community members. 
The Ray von Dran IDEA Awards are supported by the IDEA Fund, established and endowed by Gisela von Dran, as well as alumni, donors, SU Chancellor Nancy Cantor and the Kauffman Foundation via Enitiative, a collaborative partnership that provides contacts, resources and funding support for entrepreneurial projects, while uniting faculty and students of Central New York academic institutions and members of the community.