EBV receives top 10 recognition from Inc. magazine for best college-based entrepreneurship programs in nation
The April issue of Inc. magazine has named the Entrepreneurship Bootcamp for Veterans with Disabilities (EBV) program, based at the Whitman School of Management at Syracuse University, as one of the "10 Best-In-Class" college-based entrepreneurship courses and programs in the nation.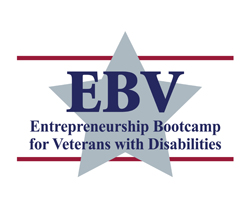 The article, "An Unsentimental Education: University Courses in Entrepreneurship are Better—More Useful, More Real and More Likely to Produce Actual Companies—Than They Ever Have Been. Here are 10 We'd Love to Take," provides a snapshot of each program and course offering. Mike Haynie, national executive director and founder of EBV programs, Barnes Fellow and assistant professor of entrepreneurship at Whitman, is quoted.
The EBV program offers cutting-edge, experiential training in entrepreneurship and small business management to soldiers, sailors, airmen and marines disabled as a result of their service supporting operations Enduring Freedom and Iraqi Freedom.
The program was founded at SU in 2007, and over the past four years has expanded to a network of world-class business schools that includes UCLA's Anderson School of Management, Florida State University's College of Business, the Mays School of Business at Texas A&M University, the Krannert School at Purdue University, the College of Business at the University of Connecticut and the E.J. Ourso College of Business at Louisiana State University. More than 300 wounded warriors have graduated from the program since its inception, and the training continues to be offered without any cost to participants.
The nine other programs and courses highlighted in Inc.'s "10 Best-in-Class" college-based entrepreneurship courses and programs are taught by Stanford University, Harvard Business School, Babson College, Northwestern University, University of Chicago, University of Miami, University of Illinois, Willamette University and The Ohio State University.