New M.F.A. program offers innovative approach to collaborative design
The Department of Design in Syracuse University's College of Visual and Performing Arts (VPA) announces Design+, a new master of fine arts (M.F.A.) degree program in collaborative design that integrates design exploration, thinking and practice to prepare students to meet tomorrow's needs for innovation leadership. The 60-credit program's first class will be admitted in fall 2012.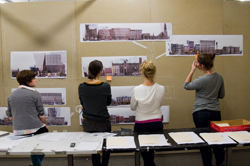 Today's fast-paced and competitive environment is forcing changes to the fundamental principles and practices that drive industry. These changes are creating opportunities for players who are adept at adapting and collaborating, and Design+ will position graduates to do exactly that.
The unique Design+ curriculum includes coursework and collaborative design projects, along with electives in an intersecting field of focused interest that is particular to each student. This curricular approach allows students to expand design to such other areas of interest as entrepreneurship, technology, public policy and the environment.
"The realization of Design+ expresses the college's commitment to interdisciplinary research and innovation and a high caliber of graduate-level study," says Ann Clarke, dean of VPA. "The program is, at its very essence, the University's vision of Scholarship in Action."
"The design department and VPA have a successful history of allowing undergraduates to participate in interdisciplinary projects and course offerings," says Lucinda Havenhand, associate professor and chair of the Department of Design. "Design+ formalizes and structures this context toward engaging graduate students in interdisciplinary practice and innovative design to create the next generation of leaders."
Design+ leverages such nationally and internationally prominent SU schools and colleges as the School of Information Studies (iSchool), Maxwell School of Citizenship and Public Affairs, S.I. Newhouse School of Public Communications and the Martin J. Whitman School of Management, as well as the SUNY College of Environmental Science and Forestry and such organizations as the Burton Blatt Institute and the Syracuse Center of Excellence in Environmental and Energy Systems (SyracuseCoE). Design+ will not only link graduate students to the energy and activities of existing programs, it will also engage partners from industry, academia and the community.
"A primary goal of Design+ is to break down the boundaries between academic and corporate realms by encouraging students, faculty, the community and business partners to work collaboratively on significant problems," says Edward Aiken, associate professor in the graduate program in museum studies and director of graduate programs in the Department of Design.
Design+ is intended for mid-career professionals who have been employed for a minimum of three to five years. Prospective students from design paths or careers outside design are highly encouraged to apply to the program; having a design degree or experience is not a prerequisite. Graduates of the program are expected to move into executive leadership positions in the public, private, entrepreneurial, academic and nonprofit sectors.
To learn more about Design+, visit http://vpa.syr.edu/design, or contact Carlota Deseda-Coon at chdeseda@syr.edu .