Award-winning filmmaker Tze Chun to screen 'Children of Invention' April 13
Award-winning filmmaker Tze Chun will present his feature debut, "Children of Invention," on Wednesday, April 13, at 6 p.m. in 121 Dorothea Ilgen Shaffer Art Building. The screening is sponsored by the film program in the College of Visual and Performing Arts' (VPA) Department of Transmedia. It is open to the University community.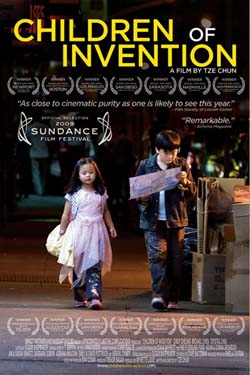 In "Children of Invention," two young children living outside Boston are left to fend for themselves when their mother gets embroiled in a pyramid scheme and disappears. The film premiered at the 2009 Sundance Film Festival and went on to be one of the most-awarded and best-reviewed films of the year. It won 17 film festival awards, including eight Grand Jury or Best Narrative Feature prizes, and has been described as "urgent, artful … austerely poetic" (Variety) and an "edge-of-your-seat family drama" (Spout) that is both "powerfully moving and rigorously intelligent." (Boston Phoenix). Learn more at http://www.childrenofinvention.com.
In 2007, Chun was named one of Filmmaker Magazine's "25 New Faces of Independent Film." For more information about the lecture, contact Kimi Takesue, assistant professor of film, at kltakesu@syr.edu.