Palitz Gallery hosts 'Wynn Newhouse 2010 Awards Exhibition' beginning April 4
Awards draw attention to achievements of artists of excellence who have disabilities
Created to draw attention to the achievements of artists of excellence who have disabilities, "The Wynn Newhouse 2010 Awards Exhibition" opens on April 4 at the Palitz Gallery at Syracuse University Lubin House (11 East 61st Street, New York City) and runs through May 5.
Exhibition hours are Monday-Friday, 10 a.m.–6 p.m., and Saturday 11 a.m.-4 p.m. The exhibition is free and open to the public. Contact (212) 826-0320 or lubin@syr.edu for more information. 
Wynn Newhouse was a prominent and avid art collector who lost functional use of one hand in an industrial accident as a young man. By midlife, he was diagnosed with multiple sclerosis. Newhouse conceived The Wynn Newhouse Awards in 2005. The program provides grants to talented fine artists with disabilities as defined by the Americans with Disabilities Act. Newhouse was joined by top artists, curators and critics who shared his belief that many disabled people have unique insights and skills that can enhance their ability to create exciting art. Wynn passed away in 2010.
The exhibition contains four sculptures, a painting and a video installation, all created by artists of professional standing with disabilities. "Wynn Newhouse knew first hand what negative perceptions many people had about people with disabilities," says Bill Butler, consultant to the S.I. Newhouse Foundation. "He also knew that talented people having disabilities were exceptional contributors in many fields, including the arts." 
Each winner receives a portion of a $60,000-per-year allotment from the Samuel I. Newhouse Foundation. Artist Tom Shannon, one of the three winners, is honored to receive his award and says the grant will certainly be beneficial as he works on new projects. "It's kind of ironic, you finally find success at a time in your life when you face the most difficult time for your abilities," says Shannon who lives with Parkinson's disease, has loss of motor control and must deal with tremors in his drawing hand. 
Indeed, all of the artists are thankful for the opportunities that are created through the financial boost winning the award provides. "This marvelous award, now in memory of Wynn Newhouse, gives me support for precious work time in my studio," says artist Willard Boepple. The artist lives with the limitations placed upon him by Guilain-Barre syndrome; legs paralyzed below the knee and arms with limited function below the elbow. "This is a greater blessing than you can imagine." 
Nominees and winners of the Wynn Newhouse Awards are chosen by a committee composed of persons respected in the arts and disabilities communities. This group also decides how the grant money will be dispersed among the artists. The selection committee for the 2010 awards was composed of Kristen Hileman, contemporary curator, Baltimore Museum of Art; Thomas Kovachevich, artist, New York; Peter Plagens, artist, critic, New York; Charles Riley, author, critic, associate professor, CCNY/Baruch, New York. 
About the Artists
Willard Boepple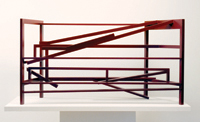 One of America's most respected sculptors, Willard Boepple is known as an "artist's artist." His work can be found in major collections, including the Metropolitan Museum of New York, the Museum of Fine Arts, Boston, Storm King Art Center, The National Academy, The Fitzwilliam Museum, The National Galleries of Botswana and numerous other public and private institutions worldwide. 
Boepple has served on the faculties of Bennington College and the School of the Museum of Fine Arts, Boston, and has traveled extensively in Africa as a U.S. State Department Visiting Cultural Specialist. He is the chairman of the Triangle Artists' Workshop in New York and serves on the board of directors of the Vermont Studio Center. 
Bill Shannon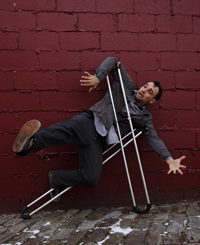 Shannon holds a BFA from the School of the Art Institute of Chicago. He has been honored with numerous awards, including a John Simon Guggenheim Fellowship (2003), a Foundation for Contemporary Art Fellowship and a Pennsylvania Council of the Arts Interdisciplinary Arts Fellowship. Shannon has received support for his work from numerous visual and performing arts organizations, including the National Endowment for the Arts, the National Dance Project of the New England Foundation for the Arts, the New York State Council for the Arts, the James E. Robison Foundation, The Harkness Foundation for Dance and Arts International: The Fund for U.S. Artists at International Festivals. He has also been honored by Dance Magazine in 2001 as one of its "25 to Watch." 
Shannon's performance art and video installations have appeared internationally in the Hirshhorn Museum & Sculpture Garden (Washington, D.C.), the Tate Liverpool Museum (England), the Kiasma Museum of Contemporary Art (Finland) and the Museum of Contemporary Art in Chicago. 
Shannon has Legg-calve Perthese disease, causing bilateral hip deformity and osteo-arthritis. 
Tom Shannon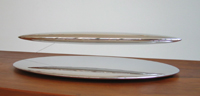 Artist and inventor Shannon's sculpture has been exhibited in galleries and institutions all around the world, including the Centre Pompidou in Paris, the Stedelijk Museum in Amsterdam and the Museum of Modern Art in New York City. His clever orchestrations of hidden magnets and tiny suspension cables make otherwise inert materials such as steel and wood take on a truly otherworldly quality–bringing objects like planets, stars and atoms to a scale you can understand (and touch). Shannon also holds the patents for the first tactile telephone, a color television projector and a synchronous world clock that is in the collection of the Smithsonian Institution. He is developing a spherical helium airship whose entire surface is an LED video screen.