Syracuse Architecture appoints new chair of undergraduate program
Professor Timothy Stenson has been appointed the new chair of the undergraduate program at the Syracuse University School of Architecture, effective July 1, 2011, Dean Mark Robbins has announced. Prior to coming to Syracuse Architecture in 2005, Stenson taught at the University of Virginia and the University of Michigan. His teaching encompasses design studios, advanced fabrication, furniture design and technology.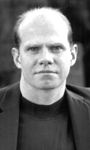 "Tim's research interests and his commitment to the development of design pedagogy make him an ideal choice to lead the undergraduate program," says Robbins. "We look forward to the ways in which this will inflect the undergraduate curriculum as it continues to grow and evolve."
Stenson's design research focuses on sustainable high performance houses. He has completed a series of projects supported by the U.S. Department of Energy, the U.S. Environmental Protection Agency and the Syracuse Center of Excellence in Environmental and Energy Systems. Current projects include the study of design processes in architecture and engineering with the aim of optimizing low-energy building systems.
Stenson's creative work spans a broad range of scales and media from furniture to urban design, and graphite on paper to folded steel. His work has been exhibited and published widely and received numerous design awards, including the AIA National Award for Excellence in Collegiate Urban Design in 1992, two faculty design awards from the ACSA in 2001 and 2003, the Best in Show and a Merit Award from Inform Magazine in 2003, and a design award from the Philadelphia AIA in 2009. In 2004, Stenson was featured in ID Magazine (International Design) as part of the ID 50.
"I look forward to building on the work of my predecessors in fostering excellence in design teaching that is the foundation of the Syracuse undergraduate program," says Stenson.
Stenson follows Jonathan Massey, chair of the undergraduate program since 2007. "During Jonathan's tenure, the program has excelled in its intellectual rigor and the level of experimentation, which also saw an increase in selectivity as well as diversity in our student body," says Robbins.
Massey will take a research leave to work on a book addressing the ways that architecture manages our consumption of resources, ranging from energy and water to time and risk. With colleagues at SU, he is also engaged in two ongoing initiatives: the Transdisciplinary Media Studio, a project that uses digital media to sponsor new modes of collaborative research, teaching, and learning across disciplines; and a digital edition of the drawings and papers of Marcel Breuer housed at the Syracuse University Library. His previous book, "Crystal and Arabesque: Claude Bragdon, Ornament, and Modern Architecture," was published in 2009 by the University of Pittsburgh Press.