Takesue short narrative film 'That Which Once Was' premieres at SXSW
"That Which Once Was," a short narrative film by Kimi Takesue, assistant professor of film in the College of Visual and Performing Arts' Department of Transmedia, premiered on March 13 at the "South by Southwest" (SXSW) Film Festival in Austin, Texas. The film was one of 10 films nationally commissioned by ITVS (Independent Television Service/PBS) as part of the FUTURESTATES series, for which each filmmaker was invited to present a vision of American society in the not-too-distant future.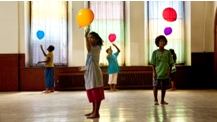 "That Which Once Was" stars Vicente Otero and Genie Award-winning actor Natar Ungalaq ("Atanarjuat: The Fast Runner"; "The Necessities of Life"). In the year 2032, Vicente, an 8-year-old Caribbean boy, has been displaced by global warming and fends for himself as an environmental refugee in a hostile Northern metropolis. Orphaned and without connection to family or friends, Vicente now lives in a children's shelter on the fringes of the city and struggles with anxiety, rage and disturbing memories of the tragedy he fled.
On a hot summer day, Vicente sits outside the shelter and sees a mysterious man smashing large chunks of ice against the pavement. Thus begins an unexpected friendship between Vicente and Siku, the ice carver: two people from different worlds who have both experienced tremendous loss. Through their bond, Siku ultimately helps Vicente confront his past and understand the value of memory.
The SXSW Film Festival was recently ranked by Indiewire as the fourth best film festival in the world.