Syracuse Poster Project to unveil 10th annual poster series
The Syracuse Poster Project will celebrate its 10th annual poster series with an opening event Thursday, April 14, at 6 p.m. in the atrium at City Hall Commons, 201 E. Washington St., Syracuse. The Poster Project brings together poets and Syracuse University artists to create an annual series of poetry posters for the poster panels of downtown Syracuse. The project enlivens the downtown, strengthens the city's sense of place and reaches the larger community by selling prints of the large posters.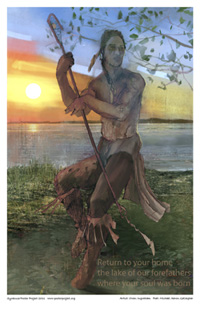 Each year since its founding in 2001, the project has produced 16 unique posters. Each poster features an illustrated poem about the downtown, city or nearby countryside. The 2011 series consists of 16 posters created by a class of advanced illustration students taught by Professor Roger DeMuth of SU's College of Visual and Performing Arts.
The student artists work in a variety of styles, including decorative, paper collage, pattern-based, landscape, caricature, graphic and painterly. The resulting posters pay tribute to nature (woodchucks, crows, carp), weather (snow shoveling), Native American culture (Onondaga Lake, lacrosse), summer rituals (the State Fair, craft festivals, berry picking), the music scene (jazz and blues festivals) and microbrewed beer.
The unveiling culminates nearly a year of collaborative work. Over the summer, participating poets write the three-line form of poetry known as haiku. By the September deadline, approximately 90 poets had submitted 202 new poems.
The unveiling will gather the poets and artists, friends of public art, representatives from the project's corporate sponsor, Seneca Federal Savings and Loan Association, and representatives of the following patrons: Geddes Federal Savings and Loan Association, Sugarman Law Firm, Paramount Realty, O'Brien & Gere, Hueber-Breuer and Anaren.
The Downtown Committee of Syracuse will post the posters shortly after the unveiling. The posters remain on display for a year.
Beyond the poster panels, the project reaches the larger community by selling 11 x 17-inch prints of the posters and by exhibiting a complete set of the prints at a different downtown venue each month. Prints can be purchased at Eureka Crafts in Armory Square; at the Copy Centers, 131 S. Salina St.; and at the project's on-line store: http://www.posterproject.org. All proceeds help the project become self-sustaining.
The poet-artist combinations (poet's name first) include:
Ellen Agnew with Chelsea Fierst;
Eric Darby with Sarah Hudkins;
Audia Denton with Katherine Mills;
Lori DiCaprio-Lee with Keisha Cedeno;
Marsha Egan with Bernard Lee;
Carrie Elliott with Patrick Davis;
Michael Gallagher with Owen Ingraham;
Nan Gartner with Jennifer Quach;
Jennifer Groff with Michael Burns;
Robin Gross with Rebekah Mackay;
Jim Kenty with Maura McGonagle;
Nancy Liccione with Petit-Frere;
Megan Reed with Crystal Choi;
Michele Reed with Jackie Evangelisti;
Jennifer Sanford with Crystal White; and
Louis Wassel with Emily Watanabe.