SYRFILM documenting U.S. women's bowling championship
The Syracuse International Film Festival is documenting the 2011 U.S. Bowling Congress Women's Championships. Some 30,000 women bowlers from across the United States are expected to arrive in Syracuse between April and June to take part in the event. Student volunteers from Syracuse University and Le Moyne College will be filming the entire event from the construction of the alleys, through the bowling championship, up to the demolition and reuse of the wood in the building of Habitat for Humanity homes.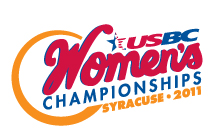 During the filming, students will be working under the direction of professional filmmakers. Excerpts from the students' work will be submitted to local television stations for use in promoting the event and the project throughout the community. 
Building of the alleys began on Feb. 21, with the arrival of 30 truckloads of wood. SYRFILM was there. In addition to the students already involved, others are invited to participate in this unique documentary project. To get involved, contact Owen Shapiro at ojshapir@syr.edu.
SYRFILM will host the 8th Annual Syracuse International Film Festival from Oct. 13-16, 2011.