Fifth edition of Stone Canoe journal available
The fifth edition of Stone Canoe: A Journal of Arts, Literature and Social Commentary, is now available for purchase in local bookstores and online. The ebook version of the journal is also available through the journal website.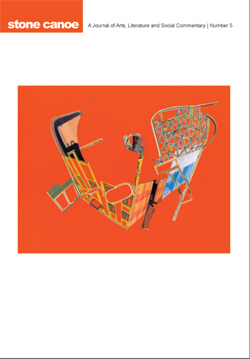 Stone Canoe Number 5 features the work of more than 100 artists and writers with ties to upstate New York, ranging from those with international reputations to those who have not previously published or exhibited their work. The journal's reach and reputation has increased steadily with each issue, and has elicited kudos from many established writers.
Submissions of visual art, short fiction, creative nonfiction, poetry and short plays are now being accepted for Stone Canoe Number 6. The deadline for submissions is July 31. To submit work, visit the website and access the online submissions link. Annual prizes are awarded for submissions in visual arts, fiction, poetry, creative nonfiction and writing on technology. See the website for details on prizes.
Stone Canoe is published annually by Syracuse University and can be ordered directly through the website, or by contacting the Stone Canoe office at University College at (315) 443-4165. There is a special educational discount for classroom use. The journal is also available at Barnes and Noble, the Syracuse University Bookstore, Follett's Orange Bookstore and Amazon.