SSO to perform April 2 concert on SU campus as part of 2010-11 season partnership
The Syracuse Symphony Orchestra (SSO) will perform a free concert on the Syracuse University campus on Saturday, April 2. The concert is part of the expanded partnership between the SSO and SU, which supports the SSO's 2010-11 season (the orchestra's 50th anniversary) and enhances the orchestra's engagement with SU faculty and students.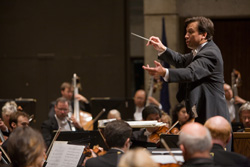 The concert will take place at 8 p.m. in the Rose and Jules R. Setnor Auditorium, Crouse College. It is free and open to the public; no tickets are required. Patrons may park for free in the Irving Garage. The concert is presented in conjunction with SU's College of Visual and Performing Arts (VPA) and the Office of the University Arts Presenter.
Central and northern New York's fully professional resident orchestra, the SSO will perform under the direction of SSO music director Daniel Hege, VPA professor of practice. The concert program features guest pianist Jianan Yu, a VPA graduate student. Selections include Rossini's "Overture to 'Semiramide'," Tchaikovsky's "Concerto No.1 in B-flat minor for piano and orchestra, Op.23" and Beethoven's "Symphony No. 6 in F Major, Op. 68, 'Pastoral'."
Yu is one of the winners of the 2011 Concerto and Aria Competition sponsored by VPA's Rose, Jules R. and Stanford S. Setnor School of Music, in collaboration with the SSO. The competition consisted of 18 competing soloists and ensembles that performed in Setnor Auditorium on March 1. A panel of Setnor School faculty, including Hege, judged the competitors; five were chosen as winners and have been invited to perform in concerts this spring. Four of the winners have been invited to perform with the SU Symphony Orchestra on April 26. They are senior Jill Brenner and graduate student Juliette Sabbah, piano and voice; graduate student Jillian Bushnell, bassoon; senior Trevor Roche, clarinet; and senior Stephen Ryck, cello.
For more information, contact the Setnor School of Music at (315) 443-2191.