SU College of Law Impunity Watch journal welcomes United Nations Peacekeeper for symposium on child soldiers
The Impunity Watch Law Journal of Syracuse University College of Law will host its annual symposium, "Humans as Commodities: Child Soldiers," on Friday, April 8, at 10 a.m. in Grant Auditorium. The event addresses the use of child soldiers in armed conflict and examines the chilling realities facing child soldiers, the root causes of the phenomenon and the persistent human rights dilemma facing the international community.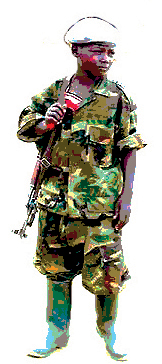 The Hon. Romeo Dallaire, who was the head of the United Nations Peacekeeping mission in Rwanda and is the author of "Shake Hands with the Devil" (Da Capo Press, 2004), will offer the keynote address. Following his address, Dallaire will be joined by Ishmael Beah, renowned human rights activist and author of "A Long Way Gone: Memoirs of a Boy Soldier" (Farrar, Straus and Giroux, 2007); former chief prosecutor in the Guantanamo Bay Military Commissions, Colonel (Ret.) Morris Davis; and American Bar Association human trafficking expert Paulina Rudnicka for a panel discussion.
Following a lunch recess, the symposium will move to the Winnick Hillel Center for Jewish Life at 2 p.m. on the SU campus. The panelists will be paired with distinguished professors from the College of Law, as well as other SU schools and colleges, to engage with attendees on several issues related to child soldiers. Topics will include how minor recruits of al-Qaida are handled differently than other child soldiers, the international responses to the use of child soldiers and a discussion of national efforts to combat human trafficking and how that plays into the recruitment of child soldiers.
Impunity Watch is the only student-run online law journal of its kind and is supervised by founder and professor David M. Crane L'80, who is the former chief prosecutor of the Special Court for Sierra Leone and now teaches at the College of Law.
The symposium is free and open to the public, with regularly updated information available at www.impunitywatch.com and http://www.facebook.com/event.php?eid=131619906909574. Experts on the issues will be available for comment; contact Ann Flower Seyse at aeseyse@syr.edu or call (518) 339-0206 to coordinate.