Acclaimed singer-songwriter Pete Yorn to deliver 2011 convocation address for SU's College of Visual and Performing Arts
Acclaimed singer-songwriter Pete Yorn will deliver the 2011 convocation address to bachelor's and master's degree candidates of Syracuse University's College of Visual and Performing Arts (VPA) at the college's convocation ceremony on Saturday, May 14, at 7 p.m. in the Carrier Dome.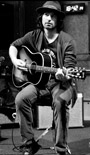 Yorn, who is celebrating the 10th anniversary of his certified gold debut album "musicforthemorningafter" and is on an international tour for his current release, "Pete Yorn," is a 1996 graduate of VPA. He earned a bachelor of science degree in speech communication from the college's Department of Communication and Rhetorical Studies (CRS).
"The Department of Communication and Rhetorical Studies is excited to have Pete Yorn return to campus 15 years after his graduation and deliver the convocation address," says Amos Kiewe, professor and chair of CRS. "Pete has kept in touch with the department and several faculty members whom he considers instrumental for his education. His convocation address brings to a close the department's centennial celebration and the many guests who came to Syracuse University during the year, recognizing 100 years of teaching communication and rhetoric at SU."
A New Jersey native, Yorn taught himself to play his older brother's drum kit at age 9, and by the time he was in high school, he was playing drums in suburban basement bands with names like Backgammon for Troubled Youth and Cheese. Around this time he taught himself guitar and began to sing and write his own songs.
After graduating from SU, Yorn headed to Los Angeles to seek a warmer climate and take a stab at a music career. After a few years of playing around town, he began to attract a following with his performances at the famed Cafe Largo. He was signed to Columbia Records in 1999 after an A&R scout heard some rough tracks that would ultimately become his debut album. Shortly after, film producer Bradley Thomas ("Kingpin," "There's Something About Mary") requested a few demos for inclusion in the Farrelly Brothers' film "Me, Myself & Irene." Yorn also landed the job of scoring all of the music for the film.
In 2001, Yorn released his debut album, "musicforthemorningafter." On the strength of the album's lead single, "Life on a Chain," with its charming melding of American roots rock and Yorn's teenage obsession with such Brit-pop bands as Joy Division and the Smiths, the album was certified gold. Rolling Stone Magazine named Yorn one of "Ten Artists to Watch in 2001" and gave "musicforthemorningafter" a favorable four-star rating.
Yorn's first three albums on Columbia Records constituted a day-in-the-life trilogy of sorts: "musicforthemorningafter," "Day I Forgot" (2003) and "Nightcrawler" (2006). They all examined different perspectives on recurring themes as one evolves through life. The records have allowed Yorn to travel the world and tour extensively since 2001. When not headlining, he has shared bills with a diverse list of bands, including Coldplay, R.E.M., Dave Matthews Band, Foo Fighters, Weezer and the Dixie Chicks (the latter with whom he also collaborated and co-wrote songs for their 2007 Grammy Award-winning Album of the Year "Taking the Long Way").
In 2008, Yorn had his most prolific writing spurt since his college days at Syracuse and went on to release three new CDs in a 15-month period. The first of those releases, "Back and Fourth" (June 2009), was recorded in Omaha, Neb., with friend and producer Mike Mogis of the band Bright Eyes. Rootsier and more melancholic than his previous work, "Back and Fourth" was regarded as "an acoustic beauty" by Rolling Stone.
Three months later, Yorn returned with an album of duets with actress Scarlett Johansson. The 29-minute "Break Up" (September 2009), which went platinum in France, featured the hit single "Relator." Most recently, he released "Pete Yorn" (also known as "The Black Album") in September 2010 via Vagrant Records. The album was produced by Frank Black of the Pixies and received eight out of 10 stars in Spin, and four out of five stars in Mojo. The Times of London referred to the record as "Yorn's finest hour" in its four-star review. Yorn has been touring the United States and Canada in support of this CD since February (including a March 6 performance in Syracuse) and will head to Europe to continue his world tour on May 16.
March 2011 also marks the 10th anniversary of "musicforthemorningafter," which has been re-released as a deluxe edition by Columbia/Legacy. Learn more at http://www.peteyorn.com.