Twelfth annual Reel Queer Film Festival planned March 31-April 2
Open Doors, a graduate group of queer and queer-friendly Syracuse University students, announces its 12th annual Reel Queer Film Festival on March 31, April 1 and April 2. The group will present a diverse platform of films that give voice to a spectrum of queer individuals and their experiences, while also presenting a genre of film making that is underrepresented in the Syracuse area.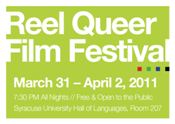 LGBT film festivals traditionally serve an important community function by affirming the queer experience, providing visibility and illustrating the stories and histories of queer people across the United States and around the world. At the same time, festivals raise awareness of sexual and gender diversity and reduce prejudice and dangerous ignorance.
Malcolm Ingram, director of "Small Town Gay Bar," will attend a special screening of his documentary film "Bear Nation." Ingram will answer questions for the viewers after the film on April 1.
For a complete schedule of the films, visit http://students.syr.edu/opendoors/reelqueer/index.html. The festival will begin at 7:30 p.m. each evening, and all films will be shown in 207 Hall of Languages.
On Thursday evening, guests without SU parking passes who announce they are attending the Reel Queer Film Festival may park in Irving Garage or any West lot for free. Guests with parking passes can park in any "orange" lot. For Friday and Saturday, guests can park in any available parking spot in the non-gated lots on campus.
The festival is sponsored by SU's College of Visual and Performing Arts, LGBT Studies, School of Education, Light Work, Asian/Asian American Studies, Department of Anthropology, Department of Geography, Disabilities Studies, SUArt Galleries, Department of Design, Hendricks Chapel, Museum Studies, Department of Psychology, Center for Policy Research, Community Folk Art Center and the Department of Political Science.
For more information, contact opendoorssu@gmail.com.