Whitman's iMBA ranked in top 25 best online MBA degree programs by Best Colleges
The iMBA program in the Martin J. Whitman School of Management at Syracuse University has been ranked the 15th best online MBA degree program by Best Colleges.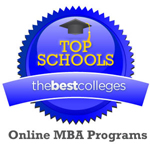 According to Best Colleges, its list of the 25 best online MBAs is ranked according to perceived prestige (awards, rankings, reputation), academic quality and affordability.
The iMBA program is Whitman's premier distance learning, part-time MBA for professionals and executives. Launched in 1977, the program has grown to 250 current students and more than 800 alumni worldwide. Students attend five-day residencies each semester and complete their coursework online.
The iMBA program's hybrid model allows students to experience the SU campus and develop relationships with faculty and peers, while providing the flexibility to complete their MBA as they continue with their career progression.
Whitman's iMBA is a limited residency program and offers electives in accounting, entrepreneurship, finance, marketing management and supply chain management. Classes are delivered online, after a one-week residency each semester.
At the cornerstone of differentiation in distance education, the Whitman iMBA program also provides an international learning component for the working professional through international residencies. This year, students will travel to Istanbul and Seoul, studying such topics as global entrepreneurship. Since 1999, students have been traveling all over the world, and have studied in areas including Dubai, Bermuda, Johannesburg and London.
Admission for the iMBA is selective; applicants need a bachelor's degree and five years of full-time professional experience. The GMAT is not required. Deadlines for fall and spring starts are July 1 and Nov. 1, respectively.
For more information, contact Whitman's Graduate Programs Office at (315) 443-4327.