Health & Society
Harriet Brown's 'Brave Girl Eating' wins Books for a Better Life award
The Southern New York Chapter of the National Multiple Sclerosis Society presented the winners of the 15th annual Books for a Better Life Awards recently during a ceremony at the Millennium Broadway Hotel in Manhattan.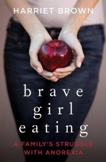 Winning in the Childcare/Parenting category was "Brave Girl Eating" (Harper Collins, 2010), a family memoir by Harriet Brown, assistant professor of magazine journalism in the Newhouse School. "Brave Girl Eating" the story of how Brown's older daughter, Kitty, became anorexic and nearly died, and how Brown, her husband and her younger daughter helped her recover.
Brown, an expert on eating disorders, food, eating and, body image, is also the editor of "Feed Me!: Writers Dish About Food, Eating, Weight and Body Image," (Ballantine, 2009), and the author of two other books. She publishes a blog, also titled "Feed Me."
Since their inception in 1996, the Books for a Better Life Awards have recognized more than 500 self-improvement authors, raising more than $1.7 million for the New York City – Southern New York Chapter's comprehensive support services and educational programs for people living with MS, their friends and families. The Awards recognize self-improvement authors whose messages are aligned with the chapter's mission of inspiring people to live their best lives.
Dr. Nancy Snyderman, author and NBC News' chief medical editor, and Jamie Raab, executive vice president of Hachette Book Group and publisher of Grand Central Publishing, were inducted into the Hall of Fame during the event. To date, the event has raised more than $130,000 to support the hundreds of annual programs and services the chapter provides people living with MS and research.