TEN Arquitectos founder Enrique Norten to deliver Werner Seligmann Lecture at Syracuse Architecture
Architect Enrique Norten, founder of TEN Arquitectos—with offices in Mexico City and New York City and a Smithsonian Institution Legacy Award winner—will deliver the Werner Seligmann Lecture at the Syracuse University School of Architecture on Tuesday, March 29, at 5 p.m. in Slocum Hall Auditorium. Norten's lecture will focus on the firm's recent work. A reception will follow in Slocum Gallery. The event is free and open to the public.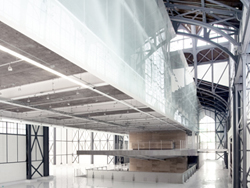 Founded in 1986, TEN Arquitectos is known for work in a broad range of scales and typologies, including furniture design; single-family houses; residential, cultural and institutional buildings; as well as landscape and master planning. Award-winning projects in Mexico City, including the Hotel HABITA, winner of the "Latin American Building of the Year" World Architecture Awards/RIBA in 2002; and Televisa Mixed Used Building, winner of first prize for the "Mies Van Der Rohe Pavilion" of Latin American Architecture in 1998, established the firm as a leader in contemporary architecture on an international scale. The firm has exhibited extensively worldwide, including the Museum of Contemporary Art in Monterrey, Mexico, the XI St. Petersburg World Economic Forum in Russia and the Venice Biennale. Current commissions include a new vision for Rutgers University's College Avenue and Livingston campuses. Construction is under way for the High Line Hotel in New York City and Acapulco's Government Center. Recently completed projects include One York Residential Building in New York City and the National Laboratory of Genomics, Irapuato, in Guanajuato, Mexico.
Norten, Hon. FAIA, was born in Mexico City, where he graduated from the Universidad Iberoamericana with a degree in architecture in 1978. He received a master of architecture degree from Cornell University in 1980. Norten's projects have received numerous awards, including a National Institute Honor Award in 2009 from the American Institute of Architects (AIA) for the Orange County Great Park, and the Excellence in Architecture and Design Award by PODER, Boston. The work of the firm has been published widely and has been the focus of several monographs. Norten has taught and lectured internationally and has held the Miller Chair at the University of Pennsylvania since 1998. He has also participated on international juries and award committees, such as the World Trade Center Site Memorial Competition in New York City and the Holcim Foundation Awards for Sustainable Construction. In 2006, he was appointed as a member of the Deutsche Bank's Board of Trustees.