DVD series collaboration between Newhouse and VPA honored by Music Teachers National Association
"3-D Piano: The Three-Dimensional Pianist," a six-part DVD series on piano teaching and playing produced by Syracuse University professors Fred Karpoff and Richard Breyer, has been named the 2011 winner of the Frances Clark Keyboard Pedagogy Award by the Music Teachers National Association (MTNA).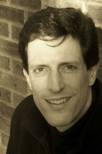 Karpoff is an associate professor of piano and ensemble arts and co-chair of the keyboard department in the Rose, Jules R. and Stanford S. Setnor School of Music in the College of Visual and Performing Arts. Breyer is a professor of television, radio and film in the S.I. Newhouse School of Public Communications and co-director of the documentary film and history program.
Headquartered in Cincinnati, the MTNA consists of more than 24,000 members, 77 percent of whom are keyboard players and teachers. The MTNA established the Frances Clark Keyboard Pedagogy Award in 2001 to recognize an individual or group who has made a significant contribution to keyboard pedagogy. Past winners include such renowned pedagogues as Maurice Hinson, James Lyke, Jane Magrath, Marienne Uszler and Barbara Lister-Sink. 
"'3-D Piano' is reaching a global audience, and we're deeply honored to receive this important award just two years after it was released," says Karpoff. 

"I am so very pleased that we received this recognition," says Breyer. "What makes Fred's approach so valuable and so important is that it teaches pianists how to improve their music while decreasing their chance of injury." 
Released in 2009, "3-D Piano" includes more than four hours of video and an accompanying workbook that guides users through Karpoff's three-dimensional approach. Hundreds of pianists and teachers in 16 countries are using the series, and it has become a core component of piano pedagogy curricula in many American universities. It was recently acclaimed in the autumn 2010 issue of Piano Professional, the journal of the European Piano Teachers Association. 
"3-D Piano" is unique because it calls for the viewer to be active. First, the viewer is shown how a master teacher (Karpoff) works with 12 students on such concepts as the quiet hand, arpeggios, scales and the vibrato technique. Review sections follow, showing viewers how to perform various movements that were observed in the lessons. If additional review time is needed before proceeding, viewers can easily call up a menu to repeat portions of the lesson. 
Karpoff's colleagues Janet Brown and Kathryn Miranda make cameos in the video, as does Syracuse Symphony Orchestra Associate Concertmaster Jeremy Mastrangelo.