Landscape architect Susannah Drake to speak at Syracuse Architecture April 5
Landscape architect Susannah Drake, principal of dlandstudio llc in New York City, will speak at the Syracuse University School of Architecture on Tuesday, April 5, at 5 p.m. in Slocum Hall Auditorium. Her lecture, "Elastic Landscape," is free and open to the public.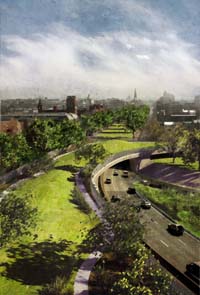 dlandstudio is an award-winning multidisciplinary design firm that includes landscape architects, urban designers, sculptors, scientists and architects. Recent public projects include "A New Urban Ground," designed in collaboration with ARO for the Museum of Modern Art's Rising Currents: Projects for New York's Waterfront exhibition in 2010; the Gowanus Canal Sponge Park™, a public space designed to absorb and remediate urban storm water; and the Brooklyn Bridge Pop-up Park, a temporary waterfront open space that attracted almost 200,000 visitors over six weeks of operation in 2008. The studio's current international work includes the site master planning, storm water management and landscape design for the Raising Malawi Academy for Girls outside of Lilongwe, Malawi, and the masterplan for a new 1,200-acre resort complex and public park in Abuja, Nigeria.
Drake received a bachelor's degree from Dartmouth College and M.Arch and MLA degrees from the Harvard Graduate School of Design. She is the recipient of grants from the Graham Foundation, the James Marston Fitch Foundation and the New York State Council on the Arts for research on campus landscapes and large-scale urban infrastructure projects. She is trustee and past president of the New York American Society of Landscape Architects (ASLA), a board member of the Van Alen Institute, serves on the campus design advisory board at Dartmouth College, and is a former director of the Fine Arts Federation and a former member of the Directors Council of New Yorkers for Parks. In addition to her professional practice, she is an adjunct professor of design at the Harvard Graduate School of Design and at City College of New York. She is a registered landscape architect and a registered architect.