Design Gallery at The Warehouse to present 'ID+'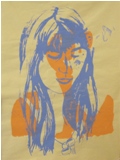 Industrial and interaction design students in Syracuse University's College of Visual and Performing Arts (VPA) will present "ID+," a show of work done outside their major, March 30-April 3 at the Design Gallery at The Warehouse, 350 W. Fayette St., Syracuse. The show is free and open to the public. The gallery is open daily, 10 a.m.-5 p.m. 
"ID+" will include art, film, painting, stand-up comedy, performance art and more. 
Within their major, VPA's industrial and interaction design students typically focus on designing products, environments, exhibitions and packaging. 
For more information, contact Julia Byron at jbyron@syr.edu.