Arts & Culture
SU Drama presents 'Curse of the Starving Class'
The Syracuse University Department of Drama will present Pulitzer Prize-winning playwright Sam Shepard's deeply unsettling, darkly funny family melodrama "Curse of the Starving Class" April 1-10 in the Storch Theatre at Syracuse Stage. Centering on a family in a dire financial and emotional state, the play highlights the darker elements in the pursuit of the American dream.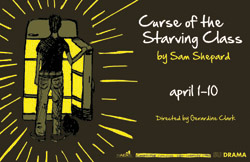 "Curse of the Starving Class" includes onstage nudity, strong language and loud noises, and is recommended for mature audiences.
Premiering at the New York Shakespeare Festival in 1978, "Curse" won the Obie Award for Best New American Play. Academy Award-winner Olympia Dukakis performed as the matriarch Ella in that production.
Gerardine Clark, whose previous credits for SU Drama include "The Rimers of Eldritch," "Hurlyburly," "Othello," "Taming of the Shrew," "Hamlet" and "Fifth of July," among others, directs. Clark's close connection to the material comes from her Midwestern upbringing in the 1960s, where the play is set.
"Sam Shepard and I were born three months and 200 miles apart," says Clark. "He and I grew up with very similar lifestyles."
With the current unemployment rate wavering around 10 percent, Shepard's story of a family in economic and psychological crisis is as timely as ever. "The play seemed strange when it was written—disturbing, upsetting, frightening," says Clark, "but it's much less strange now that the country has gone through two years of recession."
But "Curse" is not just "disturbing, upsetting and frightening;" it also happens to work in a great deal of dark humor. "When the play isn't making you cry, it's making you laugh," says Clark.
Shepard has written more than 40 plays and won 10 Obie Awards, one Pulitzer Prize for Drama in 1979 for "Buried Child" and an Oscar nomination in 1984 for his part as Chuck Yeager in "The Right Stuff."