Newly wrapped buses debut on Connective Corridor route
Syracuse University, working in partnership with Centro, is rolling out newly wrapped Connective Corridor buses. Using both interior and exterior designs, these new, innovative bus enhancements are a radical shift from the first exterior wraps that debuted in 2007.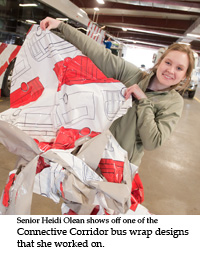 The exterior bus designs are appearing today, while anticipated interior enhancements will be ready at a later date, which has yet to be determined.
Connective Corridor buses are operated and maintained by Centro, under a partnership with the University. The buses link the University Hill with downtown Syracuse, and are provided free of charge to everyone in the community. According to Robbi Farschman, director of the Connective Corridor, redesigning wraps for Corridor buses was not in the plan when they were first installed back in 2007. "The first wraps had an anticipated life expectancy of five years," she says.
The first fleet of Corridor buses, on which the original iconic red and orange exterior wraps were installed, consisted of lower-capacity vehicles. Recently, these buses began having difficulty handling the number of riders using their services during peak hours. SU Parking and Transit Services worked with Centro to secure larger buses for the Corridor route. Those buses were officially put into operation in January. The Corridor bus route services approximately 16,000 riders per month, with transportation from campus to downtown, and to and from SU's South Campus.
New Corridor buses could have gone unadorned, but Farschman believed that, like their predecessors, that they should have a visual link to the Corridor, which elevates and celebrates art and culture in the community. Denise Heckman, professor in SU's College of Visual and Performing Arts (VPA), agreed. "The idea is to create a spectacle, to stop people in their tracks."
During the fall semester, Heckman oversaw fifth-year industrial and interaction design students Ana Mihai, Heidi Olean and Cat King who created new, unique exterior wraps. While each of the wraps is distinctive—one sports brightly colored dots, another gives a nod to different modes of transportation used in Syracuse's rich history and a third boasts a bus riding a wave—they all incorporate common elements that will soon be visuals used along the Corridor.
These elements include three key pieces. The first is the "USE" identity, which was developed by highlighting the word "use" in the word Syracuse–a playful way to get people to consider what they can use around them, in this case a bus. The second includes colors that have been selected for the Corridor route. The third element is a specific typeface, called "Ohm."
Normal Communications of Rochester won the bid and installed the exterior wraps. Normal also installed the first round of wraps on Corridor buses and is well versed in projects of this size. The full-service advertising communications company specializes in creative, effective and cost-efficient ways to reach customers, including large-scale airport displays, bus wraps and rail system ads.
In addition to the exterior wraps, the new Corridor buses will eventually showcase interior enhancements. VPA interior design professor Jen Hamilton and two VPA students, seniors Alexandra Fiust and Benjamin Lin, worked during spring 2009 to initiate a project that began with a survey of local bus riders. The results from their survey suggested that riders seek a stress-free environment when using bus transportation. Building on this notion, Hamilton and her students fashioned exciting bus interiors that incorporate both aesthetics and comfort.
The "wave" bus will have a "hydration" interior, with frothy waves and inviting, deep blue seats. The "historical modes of transportation" bus will feature an interior that pays homage to Syracuse with iconic Syracuse buildings, a whimsical ceiling and playful fabrics throughout. The "dotted" bus will include an interior "museum" with arched ceilings and gilded picture frames surrounding bus windows, showing passengers the world outside as a piece of ever-changing art.
"When I showed the designs to people, the general response was, 'Centro's never going to let you do this,'" says Farschman. "They have been amazing and have truly partnered with us to make this work."