Chancellor's Award for Public Engagement and Scholarship to be given March 30
Syracuse University will honor students, faculty, staff and community partners who exemplify SU's commitment to engagement with the community and Scholarship in Action with the 2011 Chancellor's Award for Public Engagement and Scholarship at a celebration dinner on Wednesday, March 30, at 5:30 p.m. in the Hildegarde and J. Myer Schine Student Center's Goldstein Auditorium.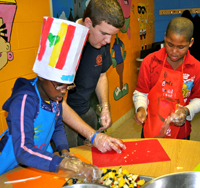 SU students, faculty and staff engage in tens of thousands of hours of community-based work to benefit the Syracuse community, the region and the world. Public scholarship is done through the Mary Ann Shaw Center for Public and Community Service (CPCS), as well as many other SU/community partnerships and programs. The Chancellor's Award for Public Engagement and Scholarship recognizes commitment to Scholarship in Action and investment in the public good.
"As you can see from the breadth and depth of the individual, group and academic projects and programs being recognized this year, students, faculty and community partners continue to expand the reach of our collaborations," says Pamela Kirwin Heintz, associate vice president and director of the CPCS. "The impact of these learning opportunities on our students is enhanced by the commitment of our community partners to support the work we do together. Students are engaged in every sector of the community, bringing their experiences into the classroom as they re-examine academic theories in light of this new knowledge. It's great!"
CPCS has named Hillside Work-Scholarship Connection (HW-SC) as its 2011 Community Partner.
This year's honorees are:
Awards
Residence Hall
The RA Staff at Watson—The staff provides an environment where students can flourish and provides effective, building-wide programs that motivate students to become involved in their community.
Student Organization
Asian Students in America (A.S.I.A.)—This group is committed to social and leadership development, cultural celebrations, educational awareness and community engagement. Ticket proceeds from one of their events were donated to InspiRING, a Bronx-based organization that provides scholarships for first-year college students. Students also mentor and tutor English as a Second Language students at Frazer School, which has a 25 percent Asian immigrant/refugee student body.
First-Year Players—Students participated in pumpkin painting, theater improvisation exercises and movement workshops for youth in the afterschool program at the Westcott Community Center. They also hosted a benefit cabaret with all proceeds benefiting the Multiple Sclerosis Society.
Student Group
The 'Cuse Spot at Wilson Park—Two students, Sarah Walton and Christine Ward, took ownership of an idea to provide activities that would be fun and educational for Syracuse students attending Wilson Park during the Syracuse City School District winter break. They recruited SU student volunteers and worked with the Syracuse Parks, Recreation and Youth Department to offer 90 students from all the city parks centers 12 classes and programs. Included among the offerings were beginning French, dance, karate and cooking.
Pro Bono Advisory Board—In the College of Law, students volunteer more than 12,000 hours in the Syracuse community during the academic year. They work in the Pro Se Divorce Clinic and the Landlord-Tenant Court, assist with the Pro Bono Bankruptcy Project and Cold Case Justice Initiative, work with Blodgett School, Youth Legal Education Outreach, Child Support Clinic, food drives and the Food Stamp Project. Many of their clients live below the federal poverty level, have physical and/or mental disabilities and struggle with low literacy skills.
Honorable mention is given to D.E.A.L. Mentoring, SU male students mentoring Clary Middle School young men; and Patchwork, a community-based collective offering innovative design and development solutions to re-establish vibrant living conditions.
Special Civic Engagement Award
The Actors' Workshop (College of Visual and Performing Arts)—is a drama group involving SU students and actors from the community who have special needs, all of whom want to work together to create theater. This year, their work culminated in the grand premiere of the documentary "People Like Me," the culmination of two years of work for S.I. Newhouse School of Public Communications faculty members Larry Elin and Doug Quin.
Ana Mihai, Catherine King and Heidi Olean—These industrial and interaction design students took on the task of wrapping three city buses. They navigated between the Syracuse Office of Community Affairs, CENTRO and various vendors to bring this abstract project to life and offer the citizens of Syracuse an opportunity to further make this 'their city."
Academic Service Learning Course/Project/Programs
School of Architecture: ARC 307 Design Studio V—Students involved in a semester-long consultation process of defining and addressing the problem of vacancy in Syracuse learned about the level of commitment required to be a community leader and the value of collaborative problem solving. The intergenerational and interdisciplinary discussions with community partners produced creative interventions to help remediate the condition (converting bus stops into centers for communication; exploring the idea of the 'Inverted Church,' whereby a church building is inverted to put community space where it is visible and the sacred space underground; and Rite Aid-Redux design catalyst for transforming vacant lots into active public spaces.
College of Human Ecology: HPM 421, Ethics and Issues in the Hospitality Industry—Students use their hospitality management skills while working with nonprofits with the purpose of beginning to understand the community around them as well as the people in it and that businesses exist in the context of the community. They worked with the Westcott Community Center, Loretto, Jewish Family Services, Meals on Wheels and the InterReligious Food Consortium.
School of Information Studies: Digital iCreation/Digital Content Creation for Communities—Students worked with nine community organizations to develop websites, videos and digital collaterals to provide innovative solutions to organizational challenges and to help promote these organizations within the community.
S.I. Newhouse School of Public Communications: Graphics 477, Problems in Graphic Design, and Photography 404/604 Illustration and Advertising Photography II—Graphic design and photography students teamed up to produce social impact campaigns for 13 local nonprofits, including the Near Westside Initiative, the American Cancer Society, Jamesville-DeWitt Meals on Wheels and St. Camillus. Projects ranged from new logos and brochures in English and Spanish for St. Lucy's Food Pantry to a video project, poster campaign and series of brochures for the Syracuse Shakespeare Festival, to large photos of the Syracuse community that are displayed at St. Camillus to help patients still feel connected to special places.
College of Visual and Performing Arts: ISD 451, Interior Design: Commercial—Thirty interior design students took on a renovation project for the Hillside Work -Scholarship Connection. Design students teamed with Hillside students to brainstorm ideas for the revitalization, survey the physical space and learn about each other's lives. Hillside students visited the Warehouse, and together they designed a dynamic interior space that will motivate and inspire the youth who attend the center. The director is seeking funding to make the design a reality.
Community Service Leadership Awards
Group
These organizations and academic projects have demonstrated a sustained commitment to community engagement and public scholarship over time.
Alpha Phi Omega, Phi Chapter
Balancing the Books
Beta Alpha Psi – International Accounting Honor Society
LCS-SRC Engineering Ambassadors
National Association of Black Accountants
Nutrition Educators at Diabetes Camp
Office for Community Engagement smART art program
Orange Seeds
Renee Crown Honors Program Hughes Elementary After-School Tutoring
Sport Management Club at Syracuse University
Student-Athlete Advisory Committee
SU/SUNY-ESF Habitat for Humanity
Community Service Leadership—Academic Service Learning
This award recognizes academic departments, projects and programs that have sustained a long-term commitment to service learning and public scholarship.
The Writing Department in The College of Arts and Sciences: WRT 205, Critical Research and Service Learning—This project brings SU students and families from the Syracuse City School District together to share and document the lives of these families, producing a magazine titled Untold Stories: Syracuse Urban Family Histories. The project promotes literacy and demonstrates the power and necessity of sharing individual histories with family and the greater community.
The Department of Child and Family Studies in the College of Human Ecology: Child Practicum/Youth and Family Practicum I/II—This program placed 65 seniors in more than 20 community sites, providing 5,850 hours of pre-professional service and impacting the quality of life for people across the age spectrum. Students served the rural and urban poor, identified at-risk youth, advocated for the vulnerable and facilitated support for community elders.
The Department of Public Health in the College of Human Ecology: HTW 302—Collaborated with the Society for Public Health Education (SOPHE) and others to implement "Health in the Real World: From Classroom to Community." They worked with Amaus Health Services at the Cathedral of the Immaculate Conception, focusing on physical and psychological health, supporting relationships, opportunities to belong, positive social norms, self-efficacy and meaning. Students also coordinated a foot care clinic and collected foot care supplies, food and clothing for the clients.
Genesis Health Project, Healthy You, Culturally Competent Healthcare, and Health Literacy—These projects/programs/courses have consistently provided learning opportunities in partnership with community to work with a faith-based initiative to reduce obesity, prevent and manage diabetes and promote healthy lifestyles among African Americans; produce a bi-yearly health newsmagazine designed to promote health literacy and healthier behaviors among students, faculty, staff and residents in the surrounding Syracuse area; and evaluate the effects of cultural differences, traditions, values and beliefs of various ethnic groups, as well as how cultural norms influence health care delivery, access and outcomes. Students plan, design and implement programs and activities, participate in men's health seminars, and volunteer at numerous community locations helping improve health literacy for non-English speakers.
The Department of Nutrition Science and Dietetics in the College of Human Ecology: NSD 511, Nutrition Education, and NSD 513, Nutrition Education Experience—Students worked with the YMCA after-school program at Allen Road Elementary School to implement a health fair that focused on choosing healthy beverages, eating a variety of fruits and choosing the right portion size; and at Head Start with four-year-old children to try new vegetables and drinks that can help them to make healthy choices. Through OutReach and Nutrition Group Education by Wellness Responsibility Advocating Peers (ORANGE WRAP), students worked with various groups, such as the Samaritan Center, conveying a non-diet, health message to prevent eating disorders and restore a balanced approach to dietary and exercise habits.
The Department of Social Work in the College of Human Ecology:SWK 301, Foundations of Social Work Practice; SWK 435 and 436, Field Practicum; SWK Master's Field Practicum—Undergraduate and graduate students work in numerous agencies throughout the Syracuse area, providing more than 100,000 hours of supportive counseling, crisis intervention, group facilitation, case management, resource referral, advocacy, education, family work, individual and group therapy, addiction treatment, grief and loss counseling and much more.
The Whitman School of Management and Maxwell School of Citizenship and Public Affairs: The Defense Comptrollership Program Class of 2011—While working on their dual master's degree programs in business administration and executive master's in public administration, a 60-credit hour program in 14 months, and inspired by a collective sense of dedication to give back to the community, each of the 32 students in the class of 2011 completes a minimum of 24 hours of community service in the Syracuse/Central New York area. Students work with the Boy Scouts and Girl Scouts, Duck Race to End Racism, the Salvation Army, Blood Bank, ASPCA, Meals on Wheels and the Special Olympics.
The Whitman School of Management: Supply Chain Management—Students Sarant Dilip Deshpande and Abbishek Shingwekar worked on a project in the pharmacy department at University Hospital assisting hospital staff to work with pharmacy staff toward the goal of reducing the number of medication errors.
The Communications Design Department in the College of Visual and Performing Arts: CMD 352, Design Project Management—Students worked in a highly collaborative environment to gain first-hand knowledge about the people of the Near Westside neighborhood, with the goal of developing marketing materials and ways to improve the landscape in an upbeat and positive manner. Their project presentation, "Community through Design," was so impressive that a local community agency provided a grant to implement some of the design elements in the neighborhood. The class also produced a book illustrating the various design elements and products they developed for the Near Westside.
Individual Awards
Resident Advisor
Julie Persaud and Aminata Sidibe—Persaud, a senior in the School of Education, and Sidibe, a graduate student in the Whitman School of Management, are recognized among campus resident advisors for being an integral part of the growth and development of undergraduate students. Their positive contributions to the lives of individuals and campus life are enormous. The RAs throughout campus have been instrumental in developing the network and enthusiasm for a significant increase in public service work among students.
2011 Inspiration Award
This year, the students receiving individual awards selected four individuals who have had a particularly significant impact on their lives and the lives of other students. This year's recipients are Jossette Burgos, coordinator of mentoring and multicultural relations in the Office of Multicultural Affairs; Mark Lichtenstein, director of operations and outreach at the Syracuse Center of Excellence in Environmental and Energy Systems; Anthony Otero, associate director of events scheduling for Student Centers and Programming Services; and Peter Wilcoxen, associate professor in the Maxwell School of Citizenship and Public Affairs.
Chancellor's Citations
The four young men and women receiving individual Chancellor's Citations represent the highest ideals of the Chancellor's Award for Public Engagement and Scholarship—significant, long-term participation in active learning and citizenship through public and community service, in addition to providing leadership and a strong personal commitment to regenerating and sustaining community.
Alison Carey, a senior in The College of Arts and Sciences and Renee Crown University Honors Program, is being honored for her passion for advancing environmental action and policy on campus, in Central New York and Mexico. For the Syracuse Environmental Finance Center, she designed and helped to install green infrastructures (rain barrels) in local communities, and partnered with the Syracuse Center of Excellence for a conference presentation on national recycling policy. She served as a teacher for the Wilson Park Environmental Education Program, working with inner city youth. For the Onondaga Citizens League, she was the annual study consultant, surveying local officials about "Being Green in CNY," and volunteered to help deconstruct historical buildings in downtown Syracuse for a proposed urban revitalization project. On campus, she served as student organizer of the Rain Garden project, working with the Office of Campus Planning, Design and Construction, recruiting and organizing 55 student volunteers to assist in building the rain garden in the Waverly parking lot. As an intern at the Environmental Finance Center of the EPA, she completed a comprehensive report about the major environmental challenges in Puerto Rico, which has been used to guide project development. And in Mexico, she worked on a research project to install, in community wetlands, an on-site water treatment facility, helping to stimulate the creation of local jobs and revenue.
Oriana Fuentes, a junior in The College of Arts and Sciences and Renee Crown University Honors Program, will be honored for her passion for promoting the public good for others. She has served as coordinator of the Breakfast Club at Levy Middle School, where she dealt with a shifting environment within the school and a new principal to keep the program afloat and relevant to the students. She works with the Hillside Work-Scholarship Connection in the Above and Beyond program, encouraging the most successful students to move further ahead so they can eventually attend college through the Say Yes program. As a member of Students for Free Enterprise (SIFE), Fuentes works on implementing plans to process University food waste in a sustainable and environmentally sound way. Using her dual language skills and multicultural perspective, she serves as a student conversation partner with international graduate students at the Slutzker Center for International Services.
Robert Solonick, a junior in The College of Arts and Sciences and the Renee Crown University Honors Program, will be honored for his talent for encouraging students to become more than they are. As a member of the Nottingham Mentoring Program, he was instrumental in helping the program adapt from strictly after school to being more integrated within the school day, preparing him for his work at Hillside Work-Scholarship Connection. He worked with the Hillside director to help form the Above and Beyond program, which aims at working with the most successful students, encouraging them to move further ahead so they can eventually attend college through Say Yes. His continuing exploration into the concept of "dirty war," government waging war against its own citizens, has taken him from Mexico to Chile, as he works to compile his research into the social cost of this concept and its overarching theme of political violence.
Jessica Santana, a senior in the Whitman School of Management, will be honored for her commitment to citizenship through public service. As president of Los Colores, she bridged the gap between the University and local community organizations by increasing membership and building relationships with local community organizations, such as the Spanish Action League, MANOS and Fowler High School. While studying abroad, Santana volunteered at the Hong Kong Salvation Army's after-school program, tutoring and mentoring Chinese students, and developing a curriculum to help them learn about American customs, traditions and the English language. She also served as a translator for first-year freshmen at the City University of Hong Kong who were having trouble understanding the material they were learning in their courses. In her hometown of Brooklyn, she created the Best of Brooklyn, a local business-funded conference with the mission of inspiring at-risk teenagers to pursue a college education. She has spent her spring breaks either working for Habitat for Humanity, volunteering at a domestic violence center in Puerto Rico or auditing financial statements for underfunded nonprofits in Spanish Harlem.
Honorable mentions have been awarded to W. Joseph Ralbovsky, a senior in The College of Arts and Sciences and the Renee Crown University Honors Program and a 2011 Syracuse University Scholar, and Sarah Wendel, a senior in The College of Arts and Sciences and the Renee Crown University Honors Program and a 2011 Syracuse University Scholar.