Alternative pirate press Cannonball Press to present exhibition, lecture at VPA
Cannonball Press, the Brooklyn, N.Y.-based alternative pirate press co-founded by artists Martin Mazorra and Mike Houston, will present an exhibition and artists' lecture in April at Syracuse University's College of Visual and Performing Arts (VPA).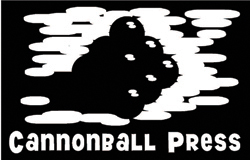 The exhibition, which includes new, large-scale graphic works, installations and sculpture, will be held April 3-17 at VPA's XL Projects, 307-313 S. Clinton St., Syracuse. A reception and limited-edition print sale, with prints for $20 each, will be held Thursday, April 7, from 6-8 p.m. The exhibition and reception are free and open to the public. Regular gallery hours are Wednesday-Sunday, noon-6 p.m.
The artists' lecture will be held on Tuesday, April 5, at 6:30 p.m. in Shemin Auditorium in the Dorothea Ilgen Shaffer Art Building. The free, public lecture is sponsored by the printmaking program as part of the Department of Art's Visiting Artist Lecture Series in VPA. Parking is available for $4 in Booth Garage. Patrons should mention that they are attending the lecture to receive this rate.
As Cannonball Press, Mazorra and Houston publish and sell limited-run editions of emerging artists' work and display it on their website, as well as at shows and festivals. The venture seeks to invite talented artists to explore the medium and make affordable, high-quality editions. Artists represented include Drew Iwaniw, Katy Seals, Joseph Velasquez, John Hitchcock, Derrick Riley, Meghan O'Connor and Dusty Herbig, assistant professor of printmaking at VPA.
Mazorra is a master printmaker who teaches at Parsons The New School for Design and SUNY New Paltz. His work explores his love for bold, voluptuous design and strong graphic images—a passion that comes from a rich cross- and sub-cultural source. He has collaborated with such artists as Rudy Burkhart, Stephen Westfall, Michael Mazur, Melissa Meyer, Joan Snyder, Brian Wood, Mary Frank, Mary Heilmann, Jacqueline Humpheries, Elena Sisto, Charlie Hewitt and Yoshishige Furukawa.
Houston works in various media, including painting, printmaking, instrument building, film and video. His style of punk surrealism revolves around a steadily growing stable of images that tread the line between abstract and representational. Inanimate products of industry, twisted science and fantasy are brought to life and collide on vinyl scrolls, aluminum panels, ink drawings, woodcuts and silkscreen prints. His awards include residencies at the Saltonstall Arts Colony, the MacDowell Colony, the Virginia Center for the Creative Arts and the Vermont Studio Center, as well as grants from Rauschenberg's Change, Inc., and the Experimental Television Center.
For more information about the lecture, contact Herbig at dtherbig@syr.edu.