University commemorates Asian-Pacific American Heritage in April
Syracuse University's Office of Multicultural Affairs launches its annual celebration of Asian-Pacific American (APA) Heritage Month on Friday, April 1, with a luncheon in Suite 105 of the Schine Student Center. From noon-1 p.m., members of the University community and general public are invited to stop by, pick up an APA Heritage Month calendar and enjoy complimentary Pan-Asian food.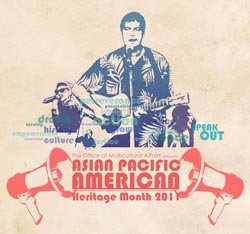 APA Heritage Month celebrates Asian Americans and Pacific Islanders who have enriched America's history and are instrumental in its future success. Guided by the University's vision of Scholarship in Action, APA Heritage Month consists of programs and signature events that educate the community about the histories, cultural diversity, contributions and often underreported challenges of Asian-Pacific Americans. Asian Students in America (ASIA), along with many other student organizations, faculty and staff on campus, will serve as hosts throughout the month.
"As a social group, we've flourished and persevered in the U.S., but our struggles have not ended," says president of ASIA Jonathan Chan. "I'm really excited about what SU's APA community is doing this year, and I challenge people from every background to attend at least one event. Months like these are established so that we can empower ourselves. We are lucky to have access to knowledge and other resources here at Syracuse University, but it's time we do something about what we learn."
This year's theme, "Speak Out," is an expression of culture, identity and resistance. It is about making the invisible visible, encouraging students to advocate for social issues affecting their own communities, and recognizing those who do so. A voice will also be given to marginalized communities within Asian-Pacific America, such as Pacific Islanders and Muslims.
Commemorative speaker Jon Osorio, professor and renowned musician from the University of Hawai'i-Mānoa, will present on Friday, April 15, at 4 p.m. in the Maxwell Auditorium. Osorio will be speaking on U.S. colonialism in Hawai'i and the movement for Hawaiian independence. After his lecture, he will perform several songs.
Another must-see event will be the unveiling of the Anti-Asian Hate Crimes exhibit in Bird Library on April 11, which was created by six students with the support of the Chancellor's Feinstone Grant. The exhibit aims to educate the community about the complex historical and cultural contexts that have produced anti-Asian messaging and crimes in the United States. Guest speaker Helen Gym, who was recently named the Philadelphia Inquirer's "Citizen of the Year" for her work in education, immigration and community activism, will take part in the event.
A full events calendar for APA Heritage Month will be posted in the Schine Student Center, or can be found at http://syracuseapamonth.blogspot.com. The forums, speakers, performances and other events are open to the public. For more information, contact Cristina Balitaan at su.apa.month@gmail.com, or the Office of Multicultural Affairs at (315) 443-9676 or oma@syr.edu.