AMC Theatres®, Autism Society to commemorate National Autism Awareness Month with nationwide theatrical run of 'Wretches & Jabberers'
AMC Theatres (AMC), a leading theatrical exhibition and entertainment company, is partnering with the Autism Society and Area 23a, an event-based distribution company, for a unique, national theatrical run of the feature documentary "Wretches & Jabberers" to commemorate National Autism Awareness Month in April.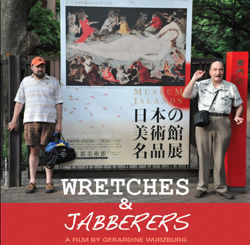 "Wretches & Jabberers" is the new documentary film co-produced by Syracuse University School of Education Dean Douglas Biklen and Academy Award-winning director Gerardine Wurzburg. The film is a poignant narrative that follows two men with autism, Tracy Thresher and Larry Bissonnette, who embark on a global quest to change attitudes about disability, intelligence and communication. 
AMC will premiere the film on April 1 for a limited theatrical run at the AMC Empire 25 in Times Square in New York—the busiest AMC theatre in the country. A week-long theatrical run of the film will also be launched in Los Angeles starting on April 15.    
Beginning April 2, which is World Autism Awareness Day, "Wretches & Jabberers" will open across the United States as part of a 40-city tour at AMC theaters in top markets such as New York, Los Angeles, Chicago and Houston. Additionally, AMC will donate a portion of the ticket sales from the 40-city tour to the Autism Society. 
Throughout the month of April, AMC will market "Wretches & Jabberers"through an Autism Society public service announcement featuring Thresher and Bissonnette, which will play at AMC theaters. 
"AMC's exclusive release of "Wretches & Jabberers" speaks to people with autism in their lives and raises the awareness of those not familiar with this condition," says Gerry Lopez, CEO and president of AMC. "Our showcasing this moving documentary is an extension of AMC's commitment to the autism community through our Sensory Friendly Films program, which presents first-run theatrical films in a safe, accepting environment for families who live with autism." 
"AMC's decision to showcase "Wretches & Jabberers" in some of its most popular mainstream movie theaters echoes the movie's powerful message of inclusion, and AMC's commitment to improving the lives of all affected by autism," says Lee Grossman, president and CEO of the Autism Society, the nation's leading grassroots organization. "It is a powerful statement by a caring corporation to extend the mission of the movie, which is to challenge public attitudes about autism."
A sentimental story about personal struggle that rings with intelligence, humor, hope and courage, "Wretches & Jabberers" is about the life-sustaining power of relationships–the personal connections that people make through communication. The film was funded by the John P. Hussman Foundation, which provides life-changing assistance through medical research, education and direct aid to individuals having urgent needs or significant disabilities. 
"Wretches & Jabberers" features original music by composer J. Ralph ("The Cove," "Man on Wire") with a soundtrack featuring original songs written and produced by Ralph in collaboration with Antony, Devendra Banhart, Paul Brady, Bonnie Bramlett, Vashti Bunyan, Martin Carthy, Judy Collins, Lila Downs, Vincent Gallo, David Garza, Ben Harper, Scarlett Johannson, Nic Jones, Norah Jones, Leah Siegel, Carly Simon, Stephen Stills, Ben Taylor and Bob Weir. The "Wretches & Jabberers" album was released on iTunes in January 2011, and a share of the profits will be donated to the Autism Society and the Wretches & Jabberers Fund of the Institute on Communication and Inclusion at SU.
"Wretches & Jabberers" is the latest documentary by Wurzburg, who won the 1993 Academy Award for Best Documentary Short Subject for her film "Educating Peter," for which Biklen served as educational consultant. She was again nominated in 2005 for "Autism is a World," which was also co-produced with Biklen. 
"We are thrilled to partner with AMC Theatres and the Autism Society and be part of the call to action for the full inclusion of adults with autism in their communities," says Wurzburg. "Tracy and Larry's journey allowed us to portray the global face of autism, and now audiences across the United States will be able share in their story and better understand adults whose lives are affected by autism." 
For the complete 40-city schedule of "Wretches & Jabberers" theatrical showings at AMC theatres, and to purchase tickets, visit: www.amctheatres.com/wretchesandjabberers.