Winter Carnival 2011 events bring annual flurry of fun to SU campus Feb. 23-27
Tired of the snow? Suffering from cabin fever? Snap out of the cold-weather doldrums during Winter Carnival! A tradition that dates back to 1930, Winter Carnival is an annual celebration of chilly and spirited fun on the Syracuse University campus. Sponsored by the Division of Student Affairs, Winter Carnival 2011 runs Wednesday, Feb. 23, through Sunday, Feb. 27.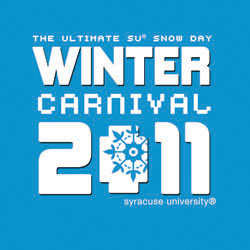 "Each year, Winter Carnival brings a bit of fun and excitement to the SU campus," says Beth Anne Kieft, a senior in the Newhouse School and Whitman School of Management, and one of three student chairs for Winter Carnival 2011. "With outdoor events like midnight snowshoeing and a snowman-building competition, and indoor fun like the Pep Rally and SU/Georgetown Game Viewing Party, we are making the most of the snow and also adding some fun and warmth to the winter. It has been a great experience helping create and organize events that I know the student body and members of the campus community will truly enjoy."
Festivities begin on Feb. 23 with Winter Carnival Days, featuring free food (hot chocolate, of course!), giveaways and fun things to do—including arts and crafts, trivia, karaoke and video games—from 11 a.m.-2 p.m. in the atrium of the Hildegarde and J. Myer Schine Student Center.
Next, join the crowd for a snowman-building competition at 3 p.m. on the Kenneth A. Shaw Quad. Sign up to construct the best snowman on campus and win prizes!
Later, University Union Concerts presents Kick-Off Winter Carnival 2011 with Big Sean and Donnis at 8 p.m. in the Schine Underground. Tickets for the show are $5 and available at the Schine Box Office, (315) 443-4517.
Winter Carnival Days continue on Feb. 24 with free food, giveaways and fun things to do in the Schine Atrium from 11 a.m.-2 p.m.
The annual Chili Cook-off, showcasing the culinary talents of faculty, staff and students, will take place from 11 a.m. until the chili is gone on the patio of Huntington Beard Crouse Hall. Stop by for free chili tasting and to meet the guest judges.
Enjoy Winter Carnival Nights from 5-7 p.m. at Goldstein Student Center on South Campus. Partake of the free food or win a little something during the free giveaways. Later, enjoy some moonlight snowshoeing and a bonfire on South Campus at 7 p.m. Pre-registration is required at http://recreationservices.syr.edu/recstore.
Athletic competitions will take place throughout the festival, including the Human Dog Sled Relay Feb. 25 at 3 p.m. in Walnut Park, and Human Bowling Feb. 25 at 9 p.m. at the Tennity Ice Skating Pavilion on South Campus, followed by Late Night Skate Night until midnight.
On Feb. 26, Otto's Army and the Traditions Commission will host a pep rally and SU vs. Georgetown Men's Basketball Game Viewing Party at 11:30 a.m. in Schine Student Center, Room 304. The afternoon will include free food and giveaways. Cost is $3 per person; tickets are available at the Schine Box Office. Winners of the athletic competitions will be announced during halftime.
Other scheduled events include:
Feb. 24 at 8 p.m.–Pride Union Drag Show Preliminaries, with special guest Samantha Vega, Schine Underground. Tickets are $3 with an SU I.D., or $5 for general admission, available at the Schine Box Office.
Feb. 25 at 7 p.m.–SU's Best Dance Crew Competition, sponsored by the Traditions Commission and University Union Performing Arts, Goldstein Auditorium in the Schine Student Center. Tickets available at the Schine Box Office.
Feb. 26 at 8 p.m., Groovestand A Cappella Invitational, Schine Underground. Tickets are $3 and available at the Schine Box Office.
Feb. 27 at 8 p.m., UU Cinemas "Snow Day," Goldstein Student Center, Room 201. Free admission, popcorn and drinks.