SU Showcase Fellows applications sought; funding available for 'green' projects
Seed money is available for students looking to present their sustainability-related projects and research at SU Showcase, the campuswide day-long celebration that will transform Schine Student Center into a "green museum" of student ideas on Monday, May 2.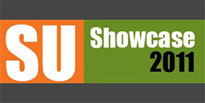 Syracuse University and SUNY College of Environmental Science and Forestry students whose work relates to global environmental change or sustainability are invited to apply to be SU Showcase Fellows. Approximately 10 students will be selected and eligible to receive up to $250 each to create prototypes or displays of their work. In addition to being featured at SU Showcase, fellows will have their work published in an online anthology of student research on sustainability.
"We know that students all over campus are doing exciting research and creative design and brainstorming relating to sustainability," says Rachel May, SU coordinator of sustainability education and co-chair for SU Showcase 2011. "We want to support and recognize that good work and share it with the whole campus community."
Students from any discipline are encouraged to creatively incorporate some aspect of sustainability in their coursework and share it as a Showcase Fellow. "We know that some disciplines, like biology, earth sciences, industrial design and engineering, routinely deal with issues of sustainability," says May. "But we also want to encourage students in other fields to come forward with their good ideas."
The Showcase Fellows application deadline is March 10. For more information, and to submit an application, visit http://sushowcase.syr.edu.