Long Island architect Fred Stelle '70 to lecture Feb. 22 at Syracuse Architecture
Fred Stelle, founding principal of Stelle Architects, Bridgehampton, Long Island, will speak at the Syracuse University School of Architecture on Tuesday, Feb. 22, at 5 p.m. in Slocum Hall Auditorium. His lecture, "Interventions," is supported in part by the Joseph D. Patton III Memorial Endowment for Visiting Critics. It is free and open to the public.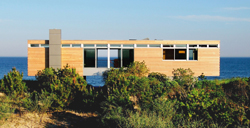 Stelle received his master of architecture degree from Syracuse in 1970. He has 30 years of design experience in institutional and residential projects that range from educational campuses and cultural facilities to administrative centers and private and multifamily residences. In 2005, he received an AIA Architectural Achievement Award, presented to an architect who has produced distinguished architecture consistently for a period of at least 10 years. He has been a Syracuse Architecture advisory board member since 2008 and in fall 2010 taught a visiting critic studio at Syracuse Architecture that included three residential projects in Syracuse's Near Westside neighborhood.
Stelle Architects is noted for its "less is more" philosophy, applying a low key, non-invasive and low-maintenance approach to both design and construction. Inspired by indigenous forms and materials, the firm has gained recognition for its ability to create environments that respect and celebrate the beauty and fragility of the natural landscape of each building site. The firm has an impressive AIA award-winning portfolio that includes many eastern Long Island oceanfront residences. Stelle's work has been featured in Architectural Digest, Splashes of Sun & Sea, Hamptons Cottage & Gardens, 150 Best Kitchen Ideas and "21st Century Beach Houses" by Andrew Hall, and many other publications.